ByDzyne's Germán Yumar from Venezuela Achieves 1-Star President
May 20, 2023
By Nicole Dunkley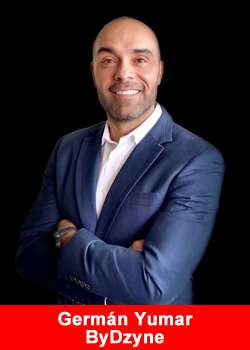 Inspiring leaders at ByDzyne are continuing to emerge from all regions of South America, and the momentous company has its latest trailblazer on hand with the arrival of new 1-Star President Germán Yumar from Venezuela.
* A President generates over $200,000 in sales revenue during a half-a-month span. 
Germán, a 45-year-old entrepreneur from the capital and largest city of Venezuela, Caracas, has over two decades of experience in the national and international banking sector, including 15 years serving a private banking group in Miami, Florida, USA.
Although he had no prior experience in multi-level marketing, the Venezuelan leader was enamored by its opportunity and potential for growth and knew it was the right fit for him. Not even three years later, he still is certain he's right where he needs to be.  
"Without hesitation, I chose ByDzyne because it is the first company to offer a hybrid e-commerce model in the network marketing industry.

The company also clearly delivers a great and unique marketplace of both physical products and digital services, and therefore, the decision to enter the direct sales business after 20 years of working in the traditional model became quite easy.

And knowing that great things can be achieved, including in my home country of Venezuela, is amazing,"
shared Germán.
Although he acknowledges his commitment to learning, his discipline and perseverance, and always having his "why" present in his mind as foundational factors, ByDzyne's newest 1-Star President is quick to credit others for his rise to stardom at ByDzyne—his family as his primary motivation, and unwavering support from his mentors Herson La Riva, Unai Mazeika, Paula Landino and Samer Yorde, and Daniel López.
Chad and Nattida Chong, ByDzyne's cofounders, are elated for their promising leader from Latin America, and cannot reiterate enough the characteristics that make all the difference in network marketing.   
"Congratulations to Germán Yumar for becoming our newest 1-Star President from Venezuela!

BD Nation acknowledges and celebrates your determination, efforts, and resiliency in achieving this new rank, and we are all so thrilled for you and your family.

Moving forward, we continue to encourage you to work hard, persevere through any challenges, and prioritize your goals and dreams as you continue to press on here at ByDzyne,"
remarked the Chongs. 
Germán agrees and is already focusing on what's ahead. The former banker, who also enjoys the outdoors, specifically soccer, and kitesurfing, has complete clarity on what he hopes to achieve next.  
"My next goal is clear! I want to be the next 2-Star President from Venezuela,"
declared Germán. 
* ByDzyne makes ZERO income guarantees. It takes hard work and dedication to make a substantial income. All results may vary. Between 07/01/2021 to 06/30/2022: The number of active Brand Ambassadors (BAs) who have not received any commissions, bonuses or overrides is 19,901 or 77.12% of such BAs. The median amount of commissions, bonuses and overrides received by all active BAs is $0.00. 77.12% of all active BAs have received, in the aggregate, less than or equal to this amount.   22.88% of all active BAs have received, in the aggregate, more than this amount. The average amount of commissions, bonuses and overrides that have been received.
Recommended Distributors ByDzyne