iX Global Announces New Driven Trading Programs
May 5, 2023
By Team Business For Home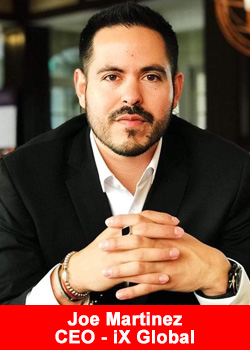 iX Global VP of Trading Cory Kromray took stage in Punta Cana, Dominican Republic this last Sunday April 30th as iX Global celebrates its third anniversary, to share a powerful retrospective of the first quarter of 2023 and a piece of the vision for the second quarter, as DRIVEN launches a campaign to promote their upcoming online event, new course and a new exclusive partnership with a trader funding program.
DRIVEN Trading has recently launched The Economic Alpha Challenge, a 5-day trading education online event that attracted over 10 thousand viewers from around the world, including in big part, a new generation of trading enthusiasts, as people are eager in search for ways to achieve financial success with independence and position themselves strategically in face of any global economic crisis.
By making trading education easily accessible for people from any education background or experience level, DRIVEN is giving people a chance to learn a skill that can serve as a powerful plan B and can have a major positive impact. "We are bringing Wall Street to Main Street."
is something you can hear DRIVEN founder Cory Kromray talk about.
Moving into the second quarter of 2023, and following the momentum from their first online event of the year, DRIVEN Trading will launch a series of single day online events leading to a very anticipated 3-day online bootcamp.
From "Trading Like a Girl" to "Trading Business" to an event targeting athletes and fitness enthusiasts, DRIVEN is going to meet people where they are at, helping them understand that the possibilities of trading today are endless for anyone willing to just learn the skill.
"People many times struggle seeing themselves as someone who could learn and excel at a new skill, we want to show them by example that, you can be a mom, an athlete, an entrepreneur, a student, a doctor, a cook, and be a successful trader at the same time, just like we have thousands of people in our community, living their best lives while developing the skill that can provide them with the possibility of financial freedom."
– says Cory.
DRIVEN Trading also announced their next 3-day live event, the DRIVEN Funded Trader Bootcamp being scheduled for the end of May.
With trader funding being at the center stage for people ready to apply their trading skills and get funded, DRIVEN will help people achieve that through strategic education, offering a free 3-day live online event followed by a new course being dropped in the DRIVEN Trading Academy, the all new "Prop Firm Mastery" course drops at the end of the free bootcamp, taught by educators with experience getting funded. The full course will be available exclusively for DRIVEN members.
"The amount of people out there trying to get funded with little to no specific education on passing these challenges is mind blowing, and at the same time it is hard to find good information on even where to go to try to get funded.

For us at DRIVEN it's very important to continue to develop key education for our community, as well as to continue to partner and collaborate with brands and companies that offer unique opportunities for our members."
says Cory Kromray, as he announces a new exclusive partnership between DRIVEN & Impact Trader, a funded trader program set to launch next month.
"It's been a blessing to partner with such a powerful community in iX Global and to watch the DRIVEN Trading brand grow and continue to gain the momentum we envisioned to be able to make a huge impact for people right at the time when people need it the most. We have a lot in store for 2023 and our main focus is accessibility through global expansion and efficiency of our education as we continue to deliver the best in trading education the world has ever seen." Cory Kromray closes.
About iX Global
iX Global is an educational and self development fintech platform that works on the philosophy of learning and earning. You can subscribe to the courses to learn financial skills to implement for yourself, and also earn money through the referral bonus structure that the company has put in place for its Brand Ambassadors.
iX members also become a part of a community that works together towards each other's personal and financial goals. For more information, please visit www.ixglobal.us.
Recommended Distributors iX Global