Mike And Sahi Hernandez Achieve Highest Rank In LifeWave
May 24, 2023
By Team Business For Home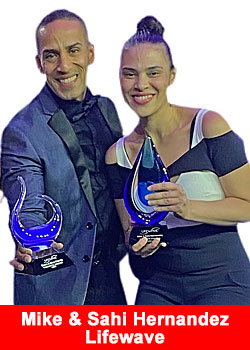 Mike and Sahi Hernandez just came out of an eight-year retirement from MLM, and they're more fired up than ever.
After teaming up with network marketing legends Steve and Gina Merritt, the Hernandezes rocketed to the top rank at Lifewave in less than two months. Mike and Sahi are creating a movement in the network marketing industry with newly patented stem cell reactivation technology and making a huge impact both physically and financially in so many people's lives.
It's no coincidence the Hernandezes and Merritts partnered up again when Steve and Gina reached out to them just months ago about this new stem cell rejuvenation technology. Both couples have hit the highest rank in Lifewave at a record pace and they have already helped others in their organization do the same.
"Mike and Sahi Hernandez have become two of the best leaders we've seen in network marketing,"
says Steve Merritt.
"I have never seen the kind of fire and passion they exemplify. One encounter with Mike and Sahi and you know not only are they going to the top, but they are also bringing everyone on their team that decides to plug in and engage along with them."
Mike Says:
"Even though our financial success and freedom stems from God blessing us in the network marketing space, we were convinced that we would never get involved again,

 We realized how challenging this business could be when you don't have a life-changing product along with exclusivity. That's exactly what we found with the X39 Stem Cell Reactivation Patch. The uniqueness of the technology and the emotional testimonies are what brought us out of eight years of retirement from network marketing."
Mike and Sahi believe they have their hands on the best product in network marketing, undeniable and just recently patented. "It's our industry's hidden jewel," says Mike.
"I found most MLM companies are competing with the same category of products, like energy drinks, weight loss, vitamins, CBD, collagen, shampoos, makeup, etc., and those same products are also found in most health food stores, online, and on TV. We refer to them as 'me too' products."
Lifewave is a 19-year-old company that recently launched a product with state-of-the-art technology that raises GHK copper peptide within the body and reactivates a person's own stem cells. It took 10 years of research and $4.5 million to bring the X39 Stem Cell Patch to market.
The product has taken Lifewave from $20 million in annual sales to over $280 million in the past two years. The X39 Stem Cell Patch currently makes up 80% of Lifewave's sales.
"Those last two years are what caught our attention," says Sahi.
"Since we started nine months ago, the momentum has literally exploded because of the X39 Stem Cell Patch. The stem cell industry is in its infancy compared to where it's going, and we are perfectly positioned to take advantage of that growth. I believe we have the most affordable, non-evasive, beyond natural and effective product in the space."
About Lifewave
Stem cell reactivation technology is beneficial because stem cell activity declines with age. At 30 years of age, only half of a person's stem cells are active, and by age 60, very few are active. Raising GHK copper peptide within the body stimulates nerve growth, increases collagen and elastin production, and improves tissue repair.
The technology behind the X39 is sophisticated, but the average person understands the importance of keeping their stem cells healthy and active. Research on the stem cell reactivation patch technology including the 80 case studies, patents, doctor reviews, and testimonies can be found at www.StartX39.com.
Recommended Distributors LifeWave