Novva Space Officially Kicks Off Its Pre-Launch Phase And Reaches 3,000 Members
May 18, 2023
By Team Business For Home
According to a Novva Space press release:
Novva Space stand out for its cleanliness, transparency and good practices and, step by step, is being seen as a very interesting alternative in the sector related to synchronized trading, NFT'S and passive income.
Novva Space services are technically for free. Novva Space markets what they call boarding passes, with which clients and entrepreneurs can obtain access, without monthly payments, to 1, 2, 3 or 5 years to their platform.
And, within it, access exclusively and without additional payments to services such as synchronized trading accounts in various markets, access to NFT'S launches and a high-level educational platform where to find continuous training in  finance & investment and much more.
Víctor Franco, Novva President and Co-Founder said:
"Knowing that the market is looking for options to generate automatic income, we saw that, unfortunately, there are many options that end badly and often damage the reputation of this beautiful industry.

That's why we wanted to create a company that would give people automatic income possibilities but with a much more transparent, grounded and sustainable sense. We want to shed some light on the world of passive income mixed with network marketing." 
Victor Franco is a Spanish entrepreneur and based in Colombia for more than 8 years.  Victor has 14 years of experience and is recognized 2 times in our website. He was a corporate director of several MLM companies and is since 2016 president of the Professional Association of Networkers, worldwide watching over and collaborating with regulatory entities in terms of pyramid anti-fraud.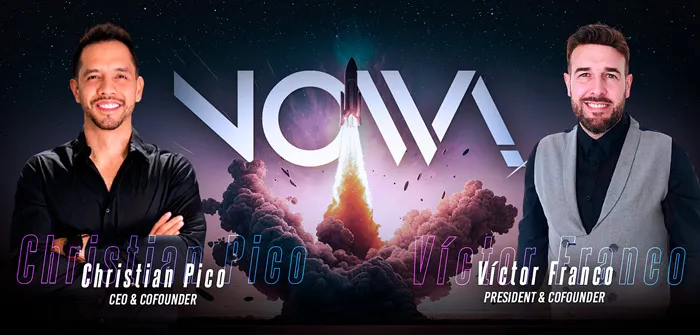 Christian Pico, CEO and Co-Founder said:
"Novva Space knows that it is not enough to offer people tools to generate income, we want people to have the proper training in the management of their finances, in the projection of their investments, in that they know how to invest responsibly and consistently.

In this way, most people will take advantage of the tools in the right way". 
Christian Pico, a.k.a. Chris Branders, is a 33-year-old Mexican who has been interested in technology since he was very young. Founder of several technology companies in software development, stock audiovisual content marketing, digital marketing platforms, MLM companies, NFT's launching platforms and real estate agencies.
According to company statements, in its positioning phase alone, the company has already paid out more than USD 300,000 in commissions and expects to distribute more than half a million dollars in commissions in its pre-launch phase.
Novva Space's goal is to hand out $10 million in commissions by 2023.
"This is something we are very excited about because we know that a good MLM company should be built to make people earn."
said Chris Pico.
About Novva Space
Novva Space specializes in creating collections of NFT'S, but because they are the creators of these digital assets, they are able to "tie" each collection to exclusive benefits in business verticals of the same company.
Novva Space organizes every quarter, in collaboration with the Professional Association of Networkers and several universities, an official diploma course in network marketing with which it plans to provide all its partners with high standards of knowledge, good practices and reliability.
With this program, Novva Space intends to recover the values and principles of true leadership and teach people the right way to do network marketing but with the most modern and updated professional techniques and tools. For more information please visit www.novvaspace.com
Recommended Distributors Novva