Start-up Numera Achieves 30% Monthly Growth In France
May 27, 2023
By Team Business For Home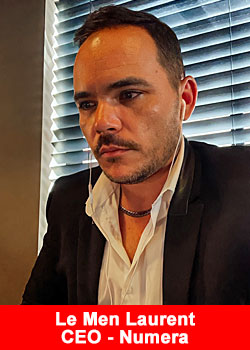 According to a Numera press release:
"Start-up Numera is a Network Marketing Company specializing in 100% natural and eco-friendly solid cosmetics, is founded in 2023 in France and expands to the European Market.
Numera is offering an innovative business model based on network marketing, combined with the production of high-quality solid cosmetics.
With an unwavering commitment to sustainability and a dedication to empowering individuals through entrepreneurship, the company has experienced remarkable success in France and is now ready to extend its reach across Europe.
Le Men Laurent CEO stated:
"Since the start of 2023, Numera has witnessed a substantial surge in demand for its products, leading to a consistent monthly growth rate of 30% in the French market. This achievement is a testament to the effectiveness of our network marketing strategy and the exceptional quality of our 100% natural and eco-friendly solid cosmetics."
Building on this success, Numera is excited to announce its expansion into the European market. This strategic move allows us to offer our innovative products and unparalleled business opportunity to a wider audience. By opening the doors to the entire European market, Numera aims to provide individuals across the continent with the chance to join our network of over 2,000 active partners and representatives.
"The success of Numera can be attributed to the shared values of our growing community of partners and representatives, who are passionate about promoting sustainable beauty practices and embracing natural alternatives.

Through our network marketing model, we offer individuals the opportunity to build their own business while making a positive impact on the environment."
As Numera continues to expand its reach, we remain committed to maintaining the highest standards of product quality and sustainability.
"Our solid cosmetics are meticulously crafted using only the finest natural ingredients, ensuring that they are free from harmful chemicals and artificial additives. Additionally, our company prioritizes eco-friendly packaging materials and production methods to minimize our environmental footprint."
About Numera
Numera is a network marketing company that specializes in providing 100% natural and eco-friendly solid cosmetics.
With a commitment to sustainability and empowering individuals, Numera offers a unique business opportunity that allows individuals to build their own successful business while promoting sustainable beauty practices. For more information, please visit www.numera-home.com