ByDzyne Celebrates 4th Anniversary With Distinguished Titan Award
June 1, 2023
By Team Business For Home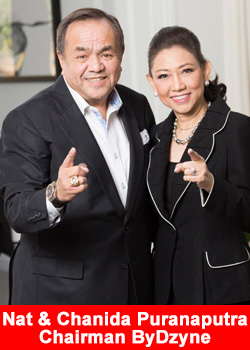 ByDzyne is capping off its unprecedented fourth year of inception by bringing home a prestigious Titan Business Award as an acclaimed Category Winner for the 2023 Achievement of the Year, underscoring the company's excellence in growth, international expansion, and global influence.
What began in April 2019 for cofounders Nat and Chanida Puranaputra, Chad and Nattida Chong, and Sophia Wong as a cumulative dream to change lives and leave a lasting impact has surpassed all expectations as the company has majestically blossomed into a direct sales juggernaut.
From an initial launch in Thailand to opening lucrative markets in Latin America and Asia in the past few years including but not limited to Colombia, Peru, Ecuador, the Philippines, Korea, Japan, Vietnam, and the United States, with the most recent expansion into the most populous country in the world in the opportunistic Republic of India, ByDzyne has become a global phenomenon.
"We are so happy to be celebrating our fourth year here at ByDzyne! From the very beginning, we envisioned a company that people could call home and could create a future and legacy with.

And we are so proud to know that dream has become a beautiful reality! The credit, from the very beginning until today, goes to all of our team around the world—from our Brand Ambassadors to our Corporate staff, thank you for being the best part of ByDzyne. We could not have achieved any of this without you and we are so grateful,"
shared a jubilant Nat and Chanida Puranaputra.
The Titan Business Award, an international award competition that recognizes and celebrates paramount significance for organizations and entrepreneurs worldwide, had an astounding 1,100 entries this year from over 50 countries, including the United States, the United Kingdom, and Germany.
ByDzyne will add the Titan accolade to its extensive list of recognition in the past four years, most notably with Chanida being awarded in 2021 as the "Top Female CEO," the company voted the number two momentous company in network marketing at Business for Home (BFH), and the company's travel product BD Dream Vacations hauling in a Platinum Vega Award at the beginning of 2023.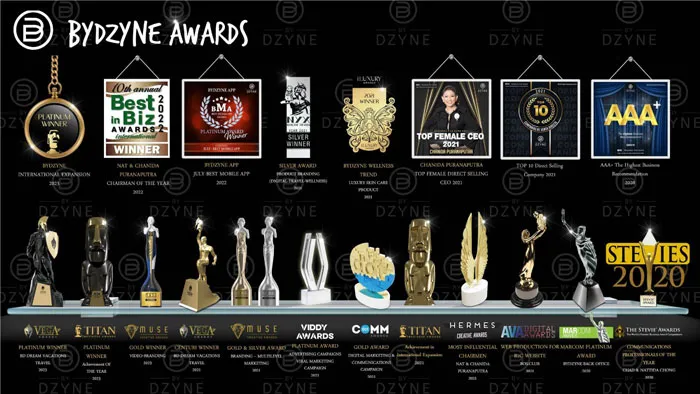 Along with its premier travel products, the company also showcases some of the world's most cutting-edge training and total wellness lines including Smart Market Academy (SMA), Online Marketing AI (OMA), Rosetta Stone, Lightn1ng Mist, Epione, Valimenta, BD Protect, TUW Smartwatch, and exclusive access to its hybrid e-commerce and award-winning platform BOS.Club.
Sales revenue has also increased each year since 2019, largely in part behind the leadership of the company's two illustrious 2-Star Crowns and four Crowns, the highest-ranked distributors in ByDzyne, many of which are also positioned on BFH's top 50 list of multi-level marketing Top Income Earners.
ByDzyne will also host its second annual convention this year in Bogotá, Colombia, and will again highlight arguably its most impactful initiative in ByDzyne Cares, the company's charitable program aimed to collaborate with local entities and tackle social and economic issues from around the world.
In just four years, ByDzyne has seemingly done it all. But if you ask any of their executive team, the company is nowhere near their summit. With lofty aspirations of exploring bigger markets like China, Africa, and diverse Europe in the imminent future, and an insatiable drive to unveil the most groundbreaking products and trends, ByDzyne is on a mission to change the world.
"From day one, we wanted to create an unparalleled company that was multi-faceted with individual needs in mind. Our mission today continues to celebrate people from all walks of life and provide them with a platform to thrive and be successful. Hear this now that is just the beginning.

ByDzyne will continue to innovate, expand, and be a global movement for positive change. This is a company inspired by greatness and 'Dzyned' for you,"
declared the Chongs.
* ByDzyne makes ZERO income guarantees. It takes hard work and dedication to make a substantial income. All results may vary. Between 07/01/2021 to 06/30/2022: The number of active Brand Ambassadors (BAs) who have not received any commissions, bonuses or overrides is 19,901 or 77.12% of such BAs. The median amount of commissions, bonuses and overrides received by all active BAs is $0.00. 77.12% of all active BAs have received, in the aggregate, less than or equal to this amount.   22.88% of all active BAs have received, in the aggregate, more than this amount. The average amount of commissions, bonuses and overrides that have been received.