Network Marketing Leader, Sónya Wilson Joins QuiAri
June 3, 2023
By Nicole Dunkley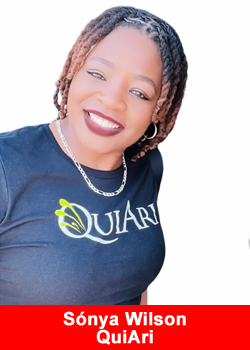 With a blended family of 13 children and 20 grandchildren, no one questions why QuiAri Promoter, Sónya Wilson desired more time and financial freedom with Network Marketing.
However, even at a young age she realized the benefits of being her own boss. Sónya worked for a long time as a Payroll Administrator for a furniture company and as an I.T. Manager for a medical company. Neither experience went as well as she had hoped.
"I went out on medical leave and ended up being terminated via email. Fortunately, we had my husband's income to keep us going, but it wasn't enough to pay all of our bills.

I had some Network Marketing experience working with my Uncle for a Telecommunications MLM.  I found a really good Health and Wellness MLM company, joined, and finally started getting back on my feet. After I was back on my feet, I started getting ahead.

I recently left to join QuiAri because my integrity means the world to me. The company I was working for lowered the quality of their products in order to boost profits. That's not what I'm about. People need to come first.

I joined QuiAri because it had all the things I wanted in a company – quality, proprietary products, a 5-Minute Pay Compensation Plan, a global system that can be duplicated, and a CEO with integrity,"
said QuiAri Promoter, Sónya Wilson.
QuiAri Founder & CEO, Bob Reina, Kristie Reina, and the entire Executive Team make sure all QuiAri Promoters around the world have everything they need to be successful, and Customers have one-of-a-kind, high-quality products that live up to their hype.
QuiAri's business plan to become the #1 global company in the industry is working. They have already gone down in history for numerous "industry-firsts."
First to pay commissions in 5 minutes or less worldwide

First to introduce the Maqui Berry to the global market

First to create a proprietary Maqui Berry extract (MaquiX®) that boosts the

antioxidant power of Maqui 10x

First MLM to open for business in over 100 countries starting on day 1
Many industry experts are taking note of QuiAri's massive growth. They are on the brink of the global release of a new anti-aging gel called QuiAri Prime.
According to QuiAri, Prime is a blend of scientifically proven, proprietary ingredients chosen specifically for their highly potent anti-aging antioxidant levels, nutritional profile, and great taste. In addition to Maqui Berry, Prime will have MaquiX®, S.O.D, Resveratrol, and Pterostilbene (QuiAri's proprietary YouthX blend)
"Prime is going to be a game-changer for my business. I know so many people that can't wait to get their hands on an anti-aging product. I've tried it and the taste is amazing, and you can enjoy it anywhere,"
said Sónya Wilson.
Bob and Kristie Reina have provided Promoters with weekly updates via Zoom (Thursdays at 10 AM EST, QuiAriHQ.com). Anyone that has attended these broadcasts can see that excitement is through the roof. Sónya had great success with QuiAri Shake and Energy both professionally and physically and is looking forward to adding a 3rd breakthrough product to her daily routine.
"I'm sleeping better, feeling better, looking younger, and my energy levels have skyrocketed.

The Shake tastes delicious – like birthday cake batter and I don't have any jitters or crashes after taking the Energy tablets.

I am so thankful for these products. Prime promotes and supports anti-aging. Who doesn't want to look and feel younger? I know I do,"
said Sónya Wilson.
QuiAri Promoters can also expect freshly redesigned marketing and training materials in multiple languages that include Prime.  A sneak peek of QuiAri's new "Purple Diamond Training Guide" (QuiAri's step-by-step guide for teaching Promoters how to rise to the top ranks) will be revealed at Thursday's Live Event. Promoters that join QuiAri receive free resources (mobile app, self-replicating website, Portal, and more) to help them get off to a fast start.
"I love what Bob Reina has done with QuiAri. This is my forever home. I'm inspired and ready to achieve my dreams. I hope to be debt-free and retire my husband so we can travel the world.

If my QuiAri business becomes really successful and I reach the top rank of Purple Diamond, I plan on using the extra income to build houses for homeless single mothers and their children.

I think it would be a wonderful legacy my children and grandchildren could continue long after we are gone,"
said QuiAri Promoter Sónya Wilson.
QuiAri's Momentum is so strong right now that anything is possible. QuiAri's Corporate Team has kept moving forward and making gains, even during the pandemic. Recently, the DSN (Direct Selling News) recognized QuiAri as one of 16 companies with 3+ years of consecutive growth. Bob Reina said he appreciates the accolades, but the Team is laser-focused on global expansion and will not rest until every person in the world knows QuiAri as the new #1.                                                                                                                                                                                                                                  To learn more about QuiAri, their products, and the opportunity to become a Promoter, visit https://quiari.com/en, or follow them on social media @QuiAriOfficial.
About QuiAri
QuiAri is the #1 health and weight loss movement in the world today. Featuring exclusive, breakthrough products (QuiAri Shake and QuiAri Energy) featuring the world's new #1 superfruit, the Maqui Berry, people everywhere are losing weight, boosting their energy levels, and improving their health. What started as an idea has now become a worldwide phenomenon, gaining a passionate following in over 100 countries. But that's not all! We boast an exciting opportunity to promote QuiAri products and earn commissions within 5 minutes after each sale through industry-first, state-of-the-art payment technology. Combining unrivaled products with the fastest payout, the fastest cycling binary, and one of the highest-paying compensation plans in the industry, there's no doubt QuiAri is helping people live healthier, happier lives. To learn more, please visit quiari.com.
These statements have not been evaluated by the Food and Drug Administration. These products are not intended to diagnose, treat, cure, or prevent any disease.
Recommended Distributors QuiAri