ByDzyne's Andrés Apontte and Korab Kozgori Achieve 3-Star President
July 27, 2023
By Nicole Dunkley
Continuing to unveil some of the industry's brightest entrepreneurs, ByDzyne may have its most promising force emerging from South America with the rise of its newest 3-Star Presidents Andrés Apontte and Korab Kozgori. 
*A 3-Star President generates over $1 Million USD of sales revenue in 15 days or less.
Andrés and Korab, co-applicants who've known each other since 2018 and have been business partners for the last several years, have been on a meteoric rise to stardom since joining ByDzyne.
The two have shattered several cycle records throughout their time at the company and are on pace to reach the distinguished Crown rank in the imminent future.  
As serial entrepreneurs who've spent time separately dabbing in a multitude of industries including in the health and digital sectors, Andrés and Korab boast almost two decades worth of combined experience in network marketing. Their home at ByDzyne feels like a perfect fit, and the two would have it no other way. 
"ByDzyne is the only avant-garde company as it is always launching into the latest business trends. The compensation plan is also built to make new people win.

We both also love the philosophy of the owners: God, family, and business. In addition, the owners and executive team are also always involved with the leaders in the field and that is simply amazing,"
shared Andrés and Korab. 
ByDzyne's executive team is extremely proud of their newest 3-Star Presidents and believes the pair will be celebrating even bigger victories up ahead. 
"Congratulations to Andrés Apontte and Korab Kozgori on becoming ByDzyne's newest 3-Star Presidents! We so believe in Andrés and Korab, for they are hardworking, zealous, and obsessed with perfecting their craft.

BD nation is celebrating you both today for a job well done! But we also are confident that this is just the beginning for you two; Crown is right around the corner.

Continue to believe in your goals, work diligently to support one another, and help all those you encounter and your dreams will be here before you know it,"
expressed Nat and Chanida Puranaputra, ByDzyne's chairman and chairwoman. 
Andrés, a 26-year-old passionate leader from Colombia, and Korab, a 41-year-old influential figurehead from the southeastern European country of the Republic of Kosovo, credit all those around them for their recent success.
Whether it's been mentors, leaders, or team members that helped pave the path or believed in their vision, ByDzyne's newest 3-Star Presidents are extremely grateful for their support system. Motivated to see their team progress in the company and see lives change, the co-applicants, who reside in Colombia, are currently focused on team rank advancement, retention, satisfied customers, and creating new leaders and stars. 
Often revered for their interactive, original, and motivating training style, Andrés and Korab are determined more than ever to make that mark. While they recognize challenges may be up ahead, their experience has only taught them that to win big, one has to go all out for it. And that's exactly what they intend to do.   
"We are aiming to achieve Crown rank and build a team with the most Presidents in the company as we have previously done in the industry.

We are confident because we are a team that tackles large challenges and therefore our results are extraordinary.

Our background has built in us the highest standard which has become the staple for our success and part of the results is because we have chosen the industry by choice and not as a necessity,"
declared a determined Andrés and Korab.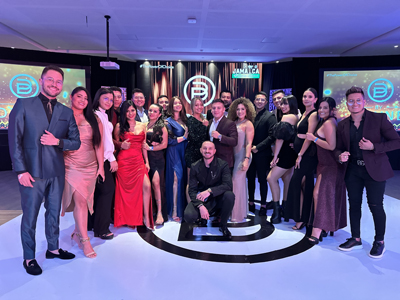 * ByDzyne makes ZERO income guarantees. It takes hard work and dedication to make a substantial income. All results may vary. Between 07/01/2021 to 06/30/2022: The number of active Brand Ambassadors (BAs) who have not received any commissions, bonuses or overrides is 19,901 or 77.12% of such BAs. The median amount of commissions, bonuses and overrides received by all active BAs is $0.00. 77.12% of all active BAs have received, in the aggregate, less than or equal to this amount.   22.88% of all active BAs have received, in the aggregate, more than this amount. The average amount of commissions, bonuses and overrides that have been received.