Finding Hope: Whitney Gee Discovers Relief and Success with ZipSlim®
July 3, 2023
By Nicole Dunkley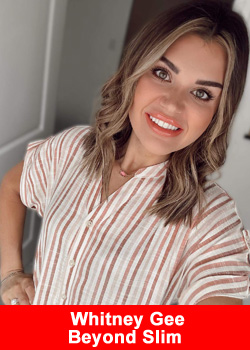 "When I tell you that ZipSlim has changed my life…I mean it. I don't say it lightly. "
Whitney Gee's journey with Beyond Slim® began in November 2022 when she developed persistent head discomfort that lasted for months, defying all conventional remedies. Despite numerous medical consultations, scans, and treatments, she found no relief or answers.
"I even went as far as seeing my eye doctor to make sure my eyes weren't causing this pain. I got no answers from anyone.

When I tell you I felt so defeated, I did. I felt so hopeless. No answers meant no solution."
When all else seemed to fail, Whitney was indroduced to a viral "skinny lemonade" that her sister and brother-in-law had been raving about. They mentioned not only how much weight they had lost but how amazing the drink made them feel. Whitney had nothing to lose, so she thought to give ZipSlim a shot. 
"I honestly couldn't believe it. I've had no head discomfort since day two of drinking this lemonade. It's the only change I've made, and it worked. It's the only thing I take to this day."
Still shocked and overwhelmed by her results, Whitney brought ZipSlim to her neurologist to get another opinion. 
"I handed my neurologist the bags and he said, 'these are wonderful ingredients, keep taking this product!"
Whitney's success with Beyond Slim is not limited to her personal health journey. Since the end of this past January, Whitney's team has achieved $332,826 in lifetime sales, and she has earned the impressive ranking of Gold Influencer 1. As a stay-at-home mom, Whitney enjoys the flexibilty of running her business while also being present with her two young kids.
"The time and financial freedom is a huge blessing. The product helps me live my best life, feeling my best self, and keeping up with my kids."
Whitney's experience with ZipSlim has been nothing short of life-changing and a strong testament to the power of this product. Her personal story is a prime example of how ZipSlim can revolutionize one's well-being and pave the way for personal and professional success. 
Whitney believes in ZipSlim because she has full faith in the product and admires the closeness of the Beyond Slim community. It's more than just a weight loss product for her. 
"I love the corporate staff. I love how we're all seen, heard, and appreciated."
Whitney recommends newcomers in the industry to embrace a "servant mindset" and purposefully maintain consistent efforts, enabling them to achieve the long-desired success. She believes it's important to acknowledge that success varies for each individual, and your only true competition is with yourself. 
Whitney is optimistic for the continued growth and improvement of her personal health and business with Beyond Slim. 
"I want to make a huge impact. I hope that myself, the company, the opportunity, and the product continue to impact lives in the best way for years to come!"
*Fifty overweight people (BMI 28-36) using a key ingredient in ZipSlim™, along with a lower calorie diet (1350 calories for women/1850 calories for men), lost 30 pounds in just 13 weeks, compared to just 10 pounds for those following the lower calorie diet alone. 
About Beyond Slim
At Beyond Slim, nothing is more important than our mission to help millions of people become Fitter, Healthier, and Happier. The science behind ZipSlim® speaks for itself, and the care that has been put into our Metabolic Reboot will help you build lasting, healthy habits.
When it came time to decide how best to take this mission to the world, we decided to put people first, innovating an entirely new model we call Social Referral Marketing™. Find out more about Beyond Slim and its amazing product, ZipSlim at www.beyondslim.com
Recommended Distributors Beyond Slim