Rain International Welcomes Jeff Higginson As New President
July 27, 2023
By Nicole Dunkley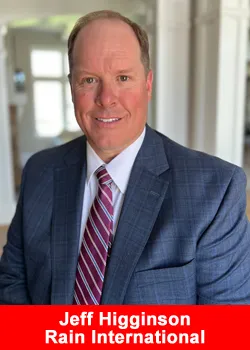 Rain International is pleased to announce the appointment of Jeff Higginson as its new President, reinforcing its commitment to executive leadership and innovation.
With an impressive background spanning two decades in the direct sales industry, Jeff brings a wealth of experience and leadership to propel Rain International into its next phase of growth.
Jeff Higginson has been a prominent figure in direct sales for 20 years, carving a successful path in various executive roles. Notably, he served as co-CEO of Agel Enterprises and President of International Fuxion Biotech before stepping into his new role as President of Rain. Jeff's passion for the industry stems from witnessing its life-changing impact on ordinary individuals.
"I am incredibly excited and humbled to take on the role of President at Rain International,"
said Jeff Higginson.
"Having experienced the profound transformation this profession brings to people's lives; I am dedicated to leading Rain on a trajectory of continuous growth and positive impact."
Jeff's dedication to his family is evident in his personal life. He is happily married to Abbie Jensen, who hails from a lineage of network marketers, and together, they have been blessed with two sons and two daughters. Furthermore, Jeff takes on a coaching role in high school sports as a hobby and actively participates in local politics as an elected city councilman, remaining deeply connected to his community.
As part of its commitment to fostering continued growth and success, Rain International is reinvesting in its leadership team by bringing in top talent, with Jeff Higginson leading the way as President. This strategic move aims to steer the company into a future filled with innovation, expanded opportunities for distributors, and an unwavering commitment to transforming lives through their unique seed nutrition products.
"We warmly welcome Jeff Higginson to the helm of Rain International,"
said CEO Byron Belka.
"His extensive experience, coupled with his passion for empowering individuals, makes him the perfect fit to lead us into a bright and promising future. As we continue to invest in our executive leadership team and tap into fresh talent, we are more confident than ever that Rain International is entering a new chapter and will bring even greater positive changes to people worldwide."
About Rain International
Rain International is the global leader in seed-based nutrition, offering unique products engineered from cold-pressed seed oils. Each seed contains more nutrients per part than anything on the planet, providing your body with the power to live youthfully and healthily. Our mission is to advance global health through seed-nutrition, one person at a time. Discover the transformative benefits of Rain International's seed-based products and find a Rain Partner at www.rainintl.com.
Recommended Distributors Rain International