Top Leader Andreea Cimbala Joins Mavie Global
July 10, 2023
By Team Business For Home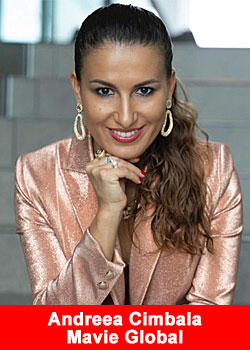 Top Leader Andreea Cimbala and the Titans Team join MaVie Global on their mission to reach 100 million members.
An invitation. A simple word, a simple gesture, and yet so meaningful in our beloved network marketing industry. When someone asks you to come and see a presentation, you might say yes or no, and many times, the positive answer might change your whole future. This is exactly what happened to Andreea Cimbala. Let's review her path from a rising star to a long-established mentor with one of the industry's most recognized names.
Andreea Cimbala, from Italy and residing in the Netherlands, comes from a humble background, the Cimbala parents were immigrants, working 7 days a week and struggling to provide for their three kids, so From a very young age, Andreea had to learn to be independent and responsible so she started to work as a waitress at a very young age.
Her dream always was to build her own business and become a businesswoman. At the age of 18, Andreea received an invitation from Iulian Cimbala to participate in the business he had just started. That decision changed everything. Today, after over 10 years of successful track record in affiliate marketing, Andreea says that at the time she didn't understand all the information, but she saw the potential of how far she could go and made the decision to commit herself fully.
"I always wanted to help the family and to build a better quality of life for myself and my children, and to make my parents proud of me as they had always encouraged me to do something bigger. I was never required to study for a career, but to dream big, to fight for my dreams, and to be independent."
And so it happened. At present, Andreea is one of the most influential women in affiliate marketing, whose sole purpose is to bring value to the lives of distributors in the industry. Even though Andreea hasn't turned 30, she has achieved a number of accomplishments, made already history in the industry and she keeps evolving and taking new steps in her life.
For all those considering a career in the affiliate marketing industry, Andreea's message is: don't prejudge when inviting someone to your business and, above all, believe in people. After 10 years of career, she still feels the thrill of seeing her name on awards and events, a triumph that is not only personal but that of the whole team she is leading: the Titans.
"I'm very fond of Greek mythology, I think the Greek gods have a lot of inspirational value. They remind us that we are all capable of achieving divine glory and stepping into our own power.

And I was thinking about who was before the Greek gods, who was even bigger than them, and then it hit me: the Titans! I've always wanted to create something great, create superheroes, a worldwide movement. I like to unite powerful people, ready to build unlimited, ever-lasting success. Titans are the excellence of the greats."
Andreea proudly announces that she had finally decided on the vehicle for her dreams and those of her team, and that vehicle is Ultron MaVie. Ultron Foundation is today the planet's fastest-growing layer-1 blockchain, and in its partnership with MaVie, one of the most prominent leaders in the WEB3, its vision is to create a vibrant and engaged community around the world, giving a sense of belonging and ownership among its users.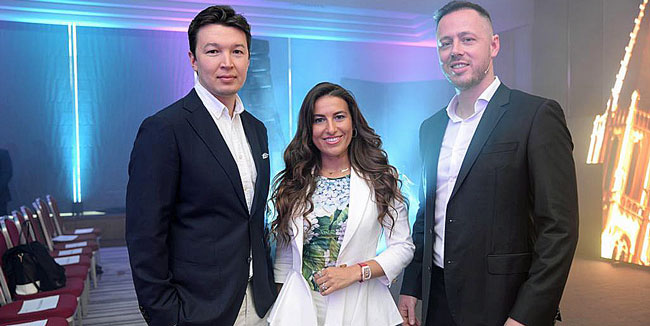 Andreea:
"Some time ago, I was introduced to this company, but I didn't go for it immediately. I took some time to research and meditate. At the point where I am today, as I have achieved my financial freedom, I don't need to take any desperate decisions, so I can take my time to choose what's best for me and my team.
I'm a businesswoman and an investor, so I asked myself: would it be worth it if I invested myself, my skills, and my talent into this company? Ultron MaVie checks many of the boxes for me, actually, all of them.
It's a nice product that I would buy myself; it's available outside affiliate marketing and a Back-Office so it does have value for people; the compensation plan is fantastic, and the corporate staff is extremely talented, professional, and experienced, which is very important because they know exactly what they're doing, and I and my team will take care of the marketing part."
Attracting a lot of people with the same vision, same mission, same passion for the industry and changing the lives of people wherever we go, and we are going to create something big, something great."
Nothing like Andreea's own words to spread the news. She and some other very prominent leaders have just recently become part of this fascinating opportunity and have already started to expand their influence and wisdom, touching the lives of millions around the globe.
" it will be a great journey because I'm reunited with my brother Iulian Cimbala."
In conclusion, Andreea Cimbala's journey is a testament to the transformative power of network marketing and the impact of a simple invitation. Rising from humble beginnings to become an industry icon, she has inspired countless individuals to pursue their dreams and achieve success. As she embarks on this new venture with Ultron Foundation and MaVie Global, her unwavering commitment to mentorship, growth, and innovation will undoubtedly continue to inspire the next generation of Titans.
Andreea firmly believes that MaVie will revolutionize the network marketing industry and become larger than the industry itself. She attributes this potential to the company's innovative approach of not creating any products themselves. Instead, they focus on their core strengths and leverage strategic partnerships to provide exceptional value to their customers and distributors. This unique business model allows MaVie to offer unparalleled commission structures that are poised to outshine any other company in the industry.
Andreea's story is a shining example of how determination, hard work, and belief in oneself can lead to extraordinary achievements and a lasting legacy in the affiliate marketing industry. With her unwavering faith in the potential of MaVie, there is no doubt that she and her team of Titans will continue to break boundaries and set new milestones for success in the years to come.
About Mavie Global
MaVie will help Ultron plan to reach new users and enter different markets, by giving insights that cater to specific regions and languages. By doing so, they will grow their user base and make their product more accessible to people around the world. Together, they're making their vision a reality. For more information please visit: www.mavie.global
Recommended Distributors Mavie Global