Top leader Marouan El Mansoub Joins Greenway Global
July 7, 2023
By Nicole Dunkley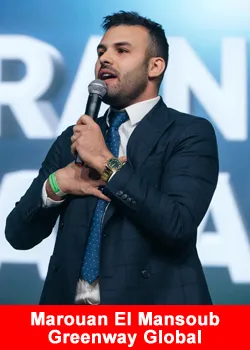 Remember this name… Marouan El Mansoub
There are talents who appear very young in the MLM industry, and who choose to turn to product companies, growing companies with a huge mission and a limitless vision.
Marouan El Mansoub has chosen Greenway Global to develop an international business and he is ready to conquer the world!
With Moroccan origin, Marouan was born in Italy 28 years ago and now lives in Modena, the city that saw the birth of the Ferrari racing team and where the famous circuit is located… The famous little prancing horse which represents speed and power has many points in common with Marouan.
Waiter in a restaurant to pay for his studies, Marouan obtained 2 university degrees, one in medical research and the other in economics and management sciences.
"I entered MLM out of desperation and inspiration, desperation because I was a waiter to pay for my studies but I saw that it was a risk to just study.

I had to activate a plan B and I met MLM on the train to college, thanks to an old friend I hadn't seen in 3 years"
During an event, he got the inspiration.  He understood that MLM was his way even if he was skeptical. It was in 2016 when he started a first experience in MLM which lasted 1 ½ years before meeting Jeunesse company in which he obtained the qualification of Ruby Director with 12,000 distributors in 4 years and in several countries. While studying, and obtaining his diplomas! 
"What my mentors Piero Sbrizzi and Maria Inserra taught me is: 'work local but think global'"
Traveling around the world, Marouan was able to learn to build INTERNATIONALLY. It was his challenge, he needed to learn to manage emotions, to solve problems related to different cultures. He, who was named Ambassador of Peace, had the chance to collaborate for the Human Rights recognized by Argentina, Israel-Palestine and the United States.
"Network marketing has allowed me to help and give a job to people in countries that are struggling.

I am happy to have met this extraordinary opportunity which, if taken seriously, with honesty, ethics and commitment, can offer you and the people who follow you an extraordinary lifestyle".
His upline Eric Clerc taught him these words: "work with the vision of expanding your team in the world with a detailed action plan". He decided to name his team World Domination, in the positive sense of conquering countries by giving people the opportunity to change their lives.
"My experience allows me to say that Greenway Global, a company with a turnover of 300 million dollars a year, is synonymous with rapid growth thanks to ecological and innovative products and a very generous compensation plan, which is already creating many millionaires.

I am happy to work close to Isabelle Laroque, Director of International Development, a powerful woman who helps me to understand Greenway very well and to manage my team.

The vision of Vice President and Co-Founder Dany Laroque, with whom I have the chance to communicate regularly, allows me to see beyond borders, push my limits and get out of my comfort zone.

I am very grateful and appreciative to Founding President Leonid Morgunov for realizing his giant dream of giving the world such a powerful opportunity. I am very proud to carry this action and to have reached the rank of Master after less than 2 months of work".
Marouan chose Greenway Global because it represents today the greatest opportunity to reach extraordinary levels, because it works with a mission of protecting the planet with ecological products at affordable prices for all, a company that has only 6 years, of which many markets are still virgin, and in which he intends to develop large teams.
About Greenway Global
Greenway Global, a green MLM company, has become within 6 years, one of the most famous in the network marketing industry known as the fastest growing company in its country: over 2 million partners worldwide, 53 countries of operation and 200 eco-markets today, with over 550 products for health, beauty, and home care.
The company's environmental projects have a worldwide scale – every month Greenway Global provides material and physical support to organizations dedicated to saving our flora and fauna. Greenway Global is the talk of the world's media, and the company's name is already firmly associated with concern for the ecology of our planet. For more information, please visit mygreenway.com