Beyond Slim Celebrates Wellness with New Cherry-Limeade ZipSlim®
August 23, 2023
By Nicole Dunkley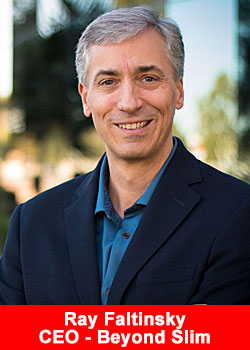 Over the last 12 months, Beyond Slim®'s blackberry lemonade wellness drink mix, ZipSlim® has burst onto the scene attracting tens of thousands of new customers.
With the perfect blend of nostalgia and health, Beyond Slim® is thrilled to announce the launch of its new Cherry Limeade flavor to their ZipSlim® collection. Tasting like the perfect old-school Sonic Cherry Limeade drink, this mouthwatering new flavor of ZipSlim® is sure to put a fun twist on health and wellness.
ZipSlim® is a scientifically formulated overall wellness drink mix with a particular benefit for weight loss. It has already transformed thousands of lives by flipping the metabolism switch to help people lose 3x more weight than diet alone. The addition of this refreshing and iconic flavor just enhanced the wellness and weight loss journey even more.
"Because of the incredible results our customers are seeing, we've had 11 straight months of record growth with blackberry lemonade ZipSlim® ."
said Faltinsky.
"The addition of our new delicious natural cherry limeade flavor to the ZipSlim®  family is only going to help us help even more people achieve their fitness and weight loss goals.  I'm more excited than ever about our future!"
ZipSlim® 's cherry limeade flavor fits in right alongside the current ZipSlim® lineup. Designed to support healthy weight loss, improve energy levels and control stress-induced cravings, this product is the ideal solution for improving one's overall wellbeing.
And now with the option of a sweet-tart taste of cherry and the tangy zest of lime, the balance of taste and wellness has been perfected. With its refreshing zing, this new flavor delivers an unmatched experience without compromising any health benefits. Having no artificial colors or sweeteners you can enjoy an irresistible treat while making strides towards a healthy lifestyle.
"ZipSlim® is something I will take every day forever! It's incredible. So, expanding our flavor line is exciting. Cherry Limeade is an iconic flavor and I have to say I think we nailed it!"
says Rachel Kellogg, Vice President of Sales at Beyond Slim®.
This enthusiasm from the top executives is thrilling and speaks volumes about the quality they're bringing to the table.
BeyondSlim®'s introduction of its new Cherry Limeade flavor enriches your experience more than ever before by allowing you to further personalize your wellness journey. Now with a broader range of choices, you can alternate between blackberry lemonade and the new, invigorating Cherry Limeade throughout the month.
BeyondSlim®'s dedication to curate an experience that aligns with everyone's unique preferences led it to this flavorful sensation. The Cherry Limeade flavor was designed to help you stay on track and increase your satisfaction.
Now you can embrace the freedom of mixing and matching ZipSlim® flavors when you do your 'Subscribe and Save Order. You are not just subscribing to a product, but you are subscribing to a healthy lifestyle full of flavor, vibrance and vitality.
Stay tuned for more updates from Beyond Slim® – a brand that continues to innovate, excite, and most importantly, ignites wellness in each one of us.
*Fifty overweight people (BMI 28-36) using a key ingredient in ZipSlim®, along with a lower calorie diet (1350 calories for women/1850 calories for men), lost 30 pounds in just 13 weeks, compared to just 10 pounds for those following the lower calorie diet alone.
About Beyond Slim® 
At Beyond Slim®, nothing is more important than our mission to help millions of people become Fitter, Healthier, and Happier. The science behind ZipSlim® speaks for itself, and the care that has been put into our Metabolic Reboot will help you build lasting, healthy habits.
When it came time to decide how best to take this mission to the world, we decided to put people first, innovating an entirely new model we call Social Referral Marketing™. Find out more about Beyond Slim® and its amazing product, ZipSlim® at www.beyondslim.com
Recommended Distributors Beyond Slim