Beyond Slim® State-of-the-Art Manufacturing: Setting the Standard for Excellence in the Nutritional Supplement Industry
August 4, 2023
By Nicole Dunkley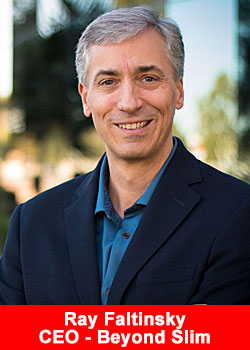 Beyond Slim has burst onto the scene since September 2022, expanding at a double-digit monthly growth rate from August 2022 through June 2023.
This makes Beyond Slim one of the fastest-growing companies in the direct selling industry today. Driving this growth is a viral new product called ZipSlim®, designed to help millions become fitter, healthier, and happier.  
"Over the last 30 years I've been a part of creating and developing over 100 different nutritional products, one of which generated over a billion dollars in sales,"
says Beyond Slim founder and CEO Ray Faltinsky,
"I've never seen a product as effective and grow as quickly as ZipSlim has. We call it our 'viral skinny lemonade.'"  
Recently, Beyond Slim took several of its top leaders to tour one of their manufacturing facilities in Utah. These leaders were blown away by the attention to detail and rigor with which every batch of ZipSlim is made.   
Beyond Slim has carved a niche for itself by employing cutting-edge supplement manufacturing practices under the watchful eye of industry expert and Chief Product Officer, Sean Ross. 
"With an unwavering commitment to producing the highest quality, most effective, and safest products in the market, Beyond Slim sets itself apart through its state-of-the-art manufacturing process."
says Ross. 
Quality assurance in the production of ZipSlim is the top priority. Rigorous testing protocols are implemented throughout the entire manufacturing process to guarantee the safety and potency of ZipSlim.
The chemistry lab performs identity, potency and safety testing on all ZipSlim raw materials ensuring that only the highest quality potent ingredients are in the final product. 
Beyond Slim also employs state-of-the-art blending methods that promote thorough homogeneity and consistency of ZipSlim in every batch. The focus on precision blending ensures uniform distribution of ingredients, elimination of any potential product inconsistencies, and guarantees that every serving delivers the desired benefits effectively. 
To assure the safety of its products, Beyond Slim utilizes a state-of-the-art third party microbiology lab. This facility conducts a wide array of testing to ensure the absence of harmful microorganisms, pathogens and heavy metals By adhering to strict industry leading testing protocols, Beyond Slim can confidently assure customers that their products are safe and free from contamination.  
Beyond Slim's manufacturers uphold stringent industry standards going beyond GMP protocols to validate the quality and integrity of ZipSlim.
They proudly hold certifications from some of the most reputable organizations including NSF International which is an independent, third-party body that verifies the purity and safety of each batch of the dietary supplements it certifies and USDA Organic. These certifications testify to Beyond Slim's commitment to producing supplements of the highest quality and safety. 
Beyond Slim stands at the forefront of the nutritional supplement industry. By harnessing state-of-the-art supplement manufacturing practices, the company consistently delivers on its commitment to excellence.
Through precise formulation, advanced quality assurance, innovative manufacturing techniques, and adherence to strict industry standards, Beyond Slim creates products that truly set the benchmark for quality and efficacy. With each purchase, customers can confidently embrace the journey towards a fitter, healthier, and happier life. 
About Beyond Slim
At Beyond Slim, nothing is more important than our mission to help millions of people become Fitter, Healthier, and Happier. The science behind ZipSlim® speaks for itself, and the care that has been put into our Metabolic Reboot will help you build lasting, healthy habits.
When it came time to decide how best to take this mission to the world, we decided to put people first, innovating an entirely new model we call Social Referral Marketing™. Find out more about Beyond Slim and its amazing product, ZipSlim at www.beyondslim.com
Recommended Distributors Beyond Slim