Utility Warehouse Announces Record Organic Growth in 2023
August 2, 2023
By Nicole Dunkley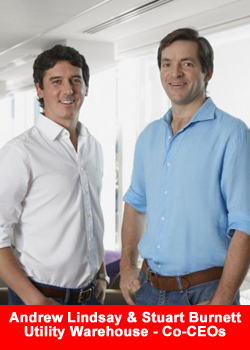 Utility Warehouse (UW) recently announced its final results for the full year, ending March 31, 2023. Revenues during this time grew to $3.1 billion, up from $1.2 billion in 2022. Adjusted pre-tax profit was up by 55% and adjusted EPS increased by 57%.
The company announced record organic growth in its operations, including a 22% increase in customers.
UW's total customer base now number 886,579, compared to 728,680 in 2022. There was also a 24% increase in the number of services supplied, which now total 2.8 million, as opposed to 2.3 million in 2022. Partner numbers increased 25% to 60,000 and insurance business more than doubled to 100,000 policies.
"This has been an outstanding year for the company: the fundamental strengths of our business model have reasserted themselves and delivered a strong outcome for all our stakeholders— particularly for our customers who benefitted from the lowest energy prices in the country throughout the year, saving over £30m on their bills,"
said UW Co-CEOs Andrew Lindsay and Stuart Burnett in a joint statement.
"However, we seek to go further than simply helping customers to save time and money on their household bills: through the UW Partner opportunity, thousands of people across the UK are earning a much-needed additional income every month.

We expect the ongoing pressure on household budgets to continue to drive significant growth in the number of Partners recommending our market-leading services to their friends and family.

This unique combination of offering consumers both meaningful savings and additional earnings in the current economic environment underpins our target of welcoming an additional million customers to UW over the medium term." 
About Utility Warehouse
Utility Warehouse, also known as UW, is the trading name of Telecom Plus. UW is the UK's only genuine multiservice utility provider – offering customers energy, broadband, mobile and insurance – and is fully regulated by Ofgem, Ofcom and the Financial Conduct Authority.
Utility Warehouse is a multiservice provider based in London, England that uses multi-level marketing to obtain customers through independent distributors. It is a brand name of its parent company, Telecom Plus. It currently handles over 886,000 customer accounts with the help of over 60,000 independent distributors.