NVU Review: Projects $100 Million In Their First Year Of Business
September 28, 2023
By Team Business For Home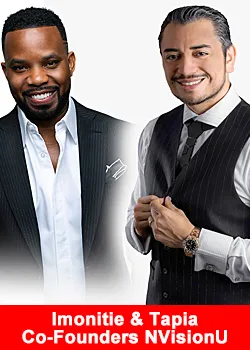 NVISIONU (NVU) is an Network Marketing Company that offers opportunities for individuals seeking to improve their financial situation and health. NVU started in late 2022, with $10 million in revenue, and according to their website:
"NVU is growing rapidly and is on pace to do $100 million in its first year of business."
However can this be done?
Further on the NVU website we find a bold statement:
"Since its inception it has one had one goal of inspiring over 1 billion people to find complete harmony in thier life."
With all respect however in the opinion of Business For Home that is marketing fluff, and such a bold statement damages NVU's credibility.
The founders of NVU are Network Marketing top leaders David Imonitie and Ivan Tapia. Both are leaders with a proven track record in the industry. Imonitie made millions in the Network Marketing industry and Tapia $75 million. For a Network Marketing company both Imonitie as Tapia have the essential recruitment power to bring NVU in exponential growth.
David Imonitie, is Chief Visionary Officer and according to NVU:
"Is not new to the power of launching and staying. With almost 20 years of industry experience under his belt, he has earned his seat as the Chief Visionary Officer and knows how to succeed in this industry.

Imonitie has created more millionaires in the last five years than most companies achieve in a 30 to 40 year span.He has keen expertise in coaching and training people from all skill levels on how to master direct sales and business development.

His international acumen has allowed him to launch and develop successful teams in many international countries, including Canada, the U.K., and Nigeria."
Ivan Tapia is President and according to NVU:
"Is a name that resonates throughout all of Latin America. As the co-founder of NVisionU, along with his wife Monika, he is trailblazing NVU's international success.

His journey in Network Marketing began over 15 years ago and is a true rags-to-riches story.He is responsible for creating more millionaires and six-figure earners in Latin American countries than any other industry professional in recent history.

Ivan has built massive international organizations and developed infrastructures that allow immense scalability and growth to realize both organizational and personal success.
"Imonitie and Tapia, in just a few months of operation, have helped leaders achieve high-level Diamond, Double Diamond, and event Triple Diamond ranks, further proving that they bring the secret sauce for MLM success."
NVU in Facts and Figures
US-based company NVU, demonstrated remarkable performance in 2022.  The firm reported substantial revenue for a start-up, marking significant growth and momentum.
In terms of global network marketing rankings according to the Business for Home database, NVU's current momentum rank is commendable at 118 out of over 900 companies worldwide.
Business for Home has also conferred an AA+ rating to the firm, hailing it as an 'awesome opportunity'. The recognition has helped to generate increased online engagement, resulting in 4,894 pageviews for NVU on Business for Home.
More information about NVisionU's performance and opportunities can be found on the company's Business for Home page. Potential distributors and those interested can check out the NVisionU's reviews and compare the company's rank with other network marketing companies worldwide.
2022 revenue: $10 (start-up year)
2023 projects $100 million
Percentage of compensation plan payout: 35%
Business for Home Rating: AA+
Current Business for Home Momentum Rank: 118
Number of Recommended Distributors: 10
Business for Home page views: 4,894
CEO: David Imonitie
Company's location: United States
Data provide by the proprietary Business for Home Intelligence Engine
Building a possible business with NVU
Choose the Right Company
Before embarking on a network marketing journey, it's crucial to pick the right company. In this case, we focus on NVU. This company has proven itself to be reliable, credible and on a path of steady growth.
Leverage Reliable Information
Use the Business for Home website to learn about different companies and find their reviews. This resource is crucial in your research as it provides data-driven facts, figures, and testimonials about network marketing companies. Search for NVU reviews to hear about the experiences of others in the company.
Understand the Company Rank
On the Business for Home website, check out the Company Rank page. This rating system will give you insight into a company's overall reputation and standing in the network marketing industry. It focuses on key factors such as company age, management, product/service value, profit potential, and more.
Create a Business Plan
With accurate information and a comprehensive understanding of the company, create a business plan. Your plan should include your marketing strategies, target audience, finances, and growth projections. A well-thought-out plan will serve as a roadmap to guide your venture.
Cultivate Your Skills
Success in network marketing comes from constant learning and skill development. Focus on enhancing your sales, communication, leadership, and networking skills. You can also attend trainings and workshops provided by NVU to improve.
Build Your Network
Expand your network by connecting with others in the industry, especially with those in NVisionU. Use your interpersonal skills to establish trust and create interactions that lead to quality referrals and potential business partners.
Stay Consistent
Network marketing is not an overnight success story. It requires consistent effort, patience, and resilience. Treat your network marketing business like any other business by committing time and effort consistently.
You might want to team up with a NVU recommended distributor. You find them at the bottom of this article.
Here's a glimpse of what people are writing about NVU
NVU, as reviewed by users on Business for Home, has earned a mixture of feedback, with users highlighting both positive and negative aspects of their experiences. This reflects the diverse viewpoints of different users, giving a comprehensive picture of what new users may expect.
In terms of commendations, some reviewers have expressed that NVisionU afforded them life-changing opportunities, with a user going on record to say:
"I made more money in two weeks with NVU than I did working my job for half a year.
This highlights the potential financial benefit that can be gained from the platform, all-though such an income claim has compliance challenges in the USA.
Moreover, other users have mentioned appreciating the community aspect of NVU. One reviewer remarked,
"The community is rewarding and enriching in all aspects"
From this, new users can surmise that the company provides an engaging and supportive environment that they can be a part of. However, it is noteworthy that there are also more critical voices to consider. Some have expressed frustration with certain business practices, with one reviewer writing:
"The management is unresponsive and the payout is not timely"
Others have also mentioned that
"Training materials and support are lacking"
meaning there may be challenges for those who require extensive guidance and assistance.
In spite of some criticisms, NVU has still made a significant impact in the industry, as indicated by its ranking on the Company Rank Page. It suggests the potential for those who decide to embark on the NVU journey.
Each experience recounted in the reviews should thus serve as guideposts for potential users who are considering NVU. While some beneficial outcomes are lauded and hope for a rewarding experience is offered, there also seems to be room for improvement, as highlighted by some users.
The value of the company, as signified on the company page, carries promise for those who are invested in the success of NVU and those who are about to begin their journey. Ultimately, the varied opinions help paint a well-rounded picture of NVU's operations, both in its high points and areas of growth.
In conclusion, NVU provides a unique opportunity that may be worth exploring. The rewarded interaction within the community, coupled with its standing in the business world, makes it an intriguing platform to consider.
Find yourself a great NVU distributor – on BFH, a list of recommended distributors for NVisionU is provided to assist you in your journey.
NVU Conclusion
Joining any startup in Network Marketing is high risk, however can also be very rewarding. With Imonitie and Tapia as co-founders and field leaders, the company, if operations are executed well and the company is funded well, then exponential growth could happen and $100 million revenue is certainly possible.
Recommended Distributors NVU