Optidee: An Undiscovered Pearl In Network Marketing
September 20, 2023
By Team Business For Home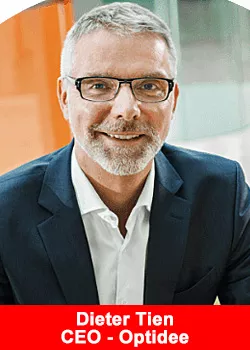 Optidee is a German based Network Marketing Company. It is a stable growing product company, all-though both on social media as from a network marketing perspective, the company has hardly used the power of those marketing channels.
The textile products, a wide range of bed and cushion covers, pillows, duvets, and much more are market conform priced, patented, only available through distributors, and not through retail shops, web shops, eBay or Amazon.
Currently the company has markets in Germany, Austria and Belgium. The Netherlands is the largest market, and in total there are approx. 1,000 distributors.
The average annual personal sales per distributor is 10 times higher then the Network Marketing average:
Euro 15,000 per Optidee distributor, compared with the average sales per distributor per year in the Network Marketing Industry which is under Euro 1,500.
Distributors earn up to 25 – 35% on their customers, and the network with an uni-level structure, is compensated with an other 15%. Total commission payout 50% on the Euro (ex VAT).
"If Optidee can attract Network Marketing Professionals, and will focus much more on social media, then, exponential grow is very well possible as the product sales revenue is unparalleled."
As the company stated:
"The basis of all of our exceptional textile products is Optifibrill®. It combines the positive properties of natural and technical fibers. 30 years of research, using specially developed raw materials and raw materials, have made it what it is today."
The secret: Thanks to incredibly thin special yarns that are woven very finely in a special manufacturing process, all Optidee products feel wonderfully soft. And the fiber structure also has a positive effect on your life because it is allergy-friendly, hygienic, durable, easy to care for, sustainable and resource-saving.
Optidee manufacture them according to German standards and with innovative technology and are responsible for the entire production process. This is how we guarantee consistent, maximum quality.
The Unique Selling Points of Optifaser:
Suitable for allergy sufferers thanks to its antibacterial properties
Environmentally friendly thanks to resource-saving production
3 year guarantee thanks to the highest material quality
Perfect hygiene thanks to its dirt and bacteria-repellent properties
Saves time and resources thanks to easy cleaning
Long-lasting enjoyment thanks to many years of use
"As a passionate family business, we have been dedicating ourselves to developing products that make your home special for several decades. We rely on personal advice and live demonstrations of our products in a relaxed atmosphere.

We believe that everything a person does with passion will turn out well. We believe that change only occurs when many people pursue an idea together. Optidee is exactly that: a shared passion for products that make life better."