Rain International Appoints Justin Wilson as Chief Revenue Officer to Drive Global Growth
September 1, 2023
By Nicole Dunkley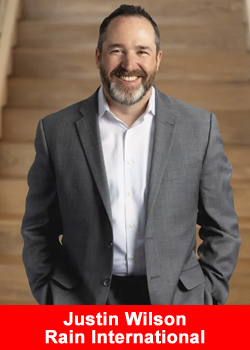 Rain International, the global leader in seed-based nutrition, is proud to announce the appointment of Justin Wilson as Chief Revenue Officer. With his vast experience and unwavering passion for network marketing, Justin assumes a pivotal role in propelling Rain International's worldwide expansion and advancement.
Justin Wilson has been deeply involved in the network marketing industry for over 27 years, fueling his belief in its transformative power. Growing up with a father who dedicated nearly 40 years to network marketing, Justin developed an innate understanding of the industry from a young age.
Throughout his career, he has held various corporate positions within two major companies, witnessing their evolution from humble beginnings into multi-million dollar enterprises.
"We are so excited to have Justin join our team at Rain," said Founder and CEO Byron Belka.
"With extensive experience in both corporate and in the field, we are confident that Justin's leadership will be instrumental in empowering individuals and communities to embrace a healthier and more fulfilling lifestyle."
During his tenure as Vice President of Europe, Justin's four-year tenure in Germany saw him establish operations across 25 European countries, a testament to his strategic acumen and cultural adaptability. His profound cross-cultural insights and global market savvy will undoubtedly contribute to Rain International's success on the global stage.
Most recently, Justin held the position of Senior Vice President of Global Sales, showcasing his expertise in developing and executing growth strategies, forming international management teams, and creating effective incentive programs.
Justin's leadership style, combined with his commitment to field training, made a significant impact on his previous organization's achievements. These accomplishments seamlessly complement his new role as Rain International's Chief Revenue Officer, affirming his capacity to lead the company towards a future of remarkable growth and success.
Justin's dedication to network marketing and his commitment to helping individuals achieve their highest potential have been instrumental in his career. Whether working at the corporate office or in the field, Justin has consistently exemplified his passion for network marketing, inspiring those around him to embrace personal growth and transformation.
Rain International is excited to welcome Justin Wilson to their leadership team, recognizing his exceptional expertise and track record of success in the industry. His appointment as Chief Revenue Officer signifies Rain's unwavering resolve to expand their influence and to bring the unparalleled benefits of seed-based nutrition to a global audience.
About Rain International
Rain International is the global leader in seed-based nutrition, offering unique products engineered from cold-pressed seed oils. Each seed contains more nutrients than anything on the planet, providing your body with the power to live youthfully and healthily. Our mission is to advance global health through seed-nutrition, one person at a time. Discover the transformative benefits of Rain International's seed-based products and find a Rain Partner at www.rainintl.com.
Recommended Distributors Rain International