Amy Jo's Metamorphosis: From Overworked Single Mom to Empowered Leader
October 18, 2023
By Team Business For Home International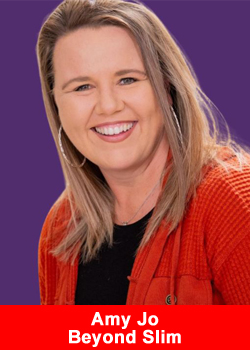 Before Amy Jo's incredible journey with Beyond Slim® began, she was a single mom, juggling multiple jobs, and feeling like there was no light at the end of the tunnel.
Her days were filled with work, leaving little time for herself or her family. She longed for a change but couldn't see a way out from the exhausting cycle she found herself in.
Then, in October 2022, everything changed. It was a simple social media post from her best friend that caught Amy Jo's attention and sparked her curiosity about ZipSlim®.
She saw an opportunity to not only earn free products but also make some extra income—something she desperately needed. Despite her past struggles with direct selling, Amy Jo decided to give it a try, although she kept her expectations in check.
"When I joined Beyond Slim all I wanted was to get my product for free and make a little extra money. As a single mom of a 14-year-old, I was missing so much because I was working a full-time job and two part-time jobs".
Over the next six months, Amy Jo built an incredible network of 800 strong and had 100 new customers and coaches joining her team every month—an extraordinary feat for someone who claims to have failed in direct selling in the past.
Her determination to succeed and workaholic instincts kicked into high gear as she created a path to success not only for herself but for the members of her team as well. 
"Literally in all the nooks and crannies, I've been able to help so many people and it feels so amazing."
Through the power of Beyond Slim, Amy Jo took control of her life and created a brighter future for herself and her son.  my Jo now spends quality time with her son during his baseball creates many lasting memories together. 
She now lives with a sense of empowerment and anticipation for what the future holds.
Amy Jo's story is a testament to the transformative power of Beyond Slim. It's not just about losing weight or feeling healthier (although those are amazing benefits too).
It's about reclaiming control over your life, embracing new opportunities, and finding joy in the everyday moments. Beyond Slim is more than just a product—it's a community of empowered mothers who are supporting each other as they navigate their own journeys of growth and transformation.
About Beyond Slim® 
At Beyond Slim®, nothing is more important than our mission to help millions of people become Fitter, Healthier, and Happier. The science behind ZipSlim® speaks for itself, and the care that has been put into our Metabolic Reboot will help you build lasting, healthy habits.
When it came time to decide how best to take this mission to the world, we decided to put people first, innovating an entirely new model we call Social Referral Marketing™. Find out more about Beyond Slim® and its amazing product, ZipSlim® at www.beyondslim.com
Recommended Distributors Beyond Slim