ByDzyne's David Mejía from Ecuador Achieves 1-Star President
October 6, 2023
By Team Business For Home International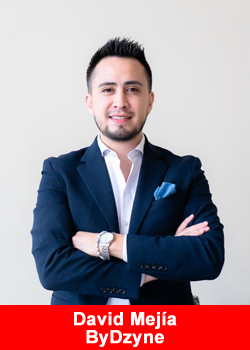 The South American region continues to unleash some of the industry's brightest new minds, and ByDzyne has yet another treasure in its ranks with the arrival of its latest 1-Star President David Mejía from Ecuador. 
* A President generates over $200,000 in sales revenue during a half-a-month span. 
David, a promising leader from the capital city of Quito, has just six years in the industry but operates like a savvy veteran.
After an intense search to find a company with the right financial vehicle, the right people and mentors to work alongside, a place where he could learn and grow, and an organization that values hard work and perseverance, the Ecuadorian entrepreneur believes he has found the perfect fit at ByDzyne.  
"It's rather simple why I chose ByDzyne—leadership, innovation, compensation plan, and the unbelievable power of the events,"
shared a grateful David.  
Chad and Nattida Chong, ByDzyne's cofounders, are ecstatic for their newest leader and believe a continued commitment to excellence will only further propel David's influence and rise to stardom in the industry. 
"Congratulations to David Mejía on becoming ByDzyne's newest 1-Star President!

BD nation recognizes you today for your hard work, commitment to yourself and your team, and resiliency in achieving this rank advance!

We encourage you to celebrate this wonderful accomplishment but to not settle moving forward. Keep dreaming higher and bigger and know that you are capable of anything you put your mind to.

We cannot wait to see what the future holds and look forward to you shattering those expectations,"
expressed the Chongs. 
Motivated to inspire his family, to become the company's next Crown, to be a beaming testimony of success, and to ultimately see his team grow and thrive, David is laser-focused on rising to the occasion and surpassing those expectations.  While he attributes many of his recent accomplishments to his support system, the young leader is also a firm believer that your posture and approach to life are what help set you apart. 
"I credit this amazing achievement and honor to the Lord, my mentors, my team, and myself. I have tried to lead by example, develop leaders, and be diligent in my efforts.

Through it all though, I also know that my attitude has made a difference. I believe that attitude will determine your altitude and your results and will help you grow to the level you are looking for and that is my encouragement to all,"
declared an inspired David.
ByDzyne makes ZERO income guarantees. It takes hard work and dedication to make a substantial income. All results may vary. Between 07/01/2021 to 06/30/2022: The number of active Brand Ambassadors (BAs) who have not received any commissions, bonuses or overrides is 19,901 or 77.12% of such BAs. The median amount of commissions, bonuses and overrides received by all active BAs is $0.00. 77.12% of all active BAs have received, in the aggregate, less than or equal to this amount.   22.88% of all active BAs have received, in the aggregate, more than this amount. The average amount of commissions, bonuses and overrides that have been received.