Incentive trips, Rolex giveaways and awe-inspiring reveals by GO Global
October 23, 2023
By Team Business For Home International
The recent months have proved to be a remarkable month for GO Global, as they continued their journey towards success in the direct selling industry. The company celebrated its G6 achievers in style, hosted exciting promotions, and unveiled plans for the future.

One of the highlights of the month was the G6 Summit for the rank achievers in Ras Al Khaimah. GO Global also gave out 80 Rolex watches to the achievers who graced the promotions, adding a touch of luxury to their achievements.
GO Global's unstoppable momentum continued with exciting promotions, including a teaser video of the long awaited official grand launch, "The TAKEOFF Convention," scheduled for February 2024. Mark your calendars, because this event is not just a convention; it's a REVOLUTION in the world of direct selling. 
"We continue to shatter records and redefine industry standards. We are proud of what we have accomplished so far, and we are just getting started."
– said CEO, Nader Poordeljoo
Adding to the excitement, GO Global introduced the "GO First Promo" challenge. Those who achieve this rank first will receive a share of an impressive prize pool. It's a prize pool that surpasses all expectations and promises life-changing rewards.
GO Global also hosted a Zoom call with one of the top three speakers in LATAM, a best-selling author and life coach, Omar Villalobos. His course on the GO Learn platform provides invaluable insights and knowledge, further enriching the GO Global community.
"There is no new newly formed company in our industry that has done more trips and events, offered more promotions and incentives, and has given more in rewards then GO Global.
We are still in pre-launch and our momentum, growth, and excitement is unmatched. We look forward to the official launch at the TAKEOFF Convention."
– said COO, A.K. Khalil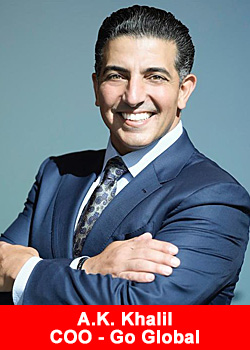 And to top it all off, perhaps the most highly anticipated reveal of the year by GO Global: an ultra-premium luxury experience of a lifetime, destined to take place in the most exotic paradise of Bali. This event promises to redefine luxury incentive trips and GO Global is set to reward the achievers with an experience like never before.

In just a few months since its pre-launch, GO Global has achieved incredible milestones. But this is only the beginning of a journey filled with even more exciting developments, accomplishments, and innovations. In the coming months and years, GO Global remains dedicated to its mission of recognizing and rewarding success while reshaping the landscape of direct selling.
About GO Global
GO Global is an affiliate marketing company offering various digital products and solutions.  Of which include an education platform providing the best online training for personal and professional growth as well as its INFIN8 MONEY cash card that allows anyone to easily convert their crypto currencies into cash for use at an ATM or anywhere major credit cards are accepted worldwide.

The company aims to empower individuals with the tools and resources they need to succeed in all areas of their life. To know more, visit us at goglobal.network  
Recommended Distributors Go Global