LifeVantage Ranked As Triple AAA+ Opportunity For 2023 And 2024
October 27, 2023
By Team Business For Home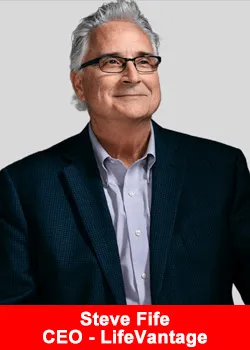 LifeVantage is a public network marketing company that has received an exceptional Business for Home rating of AAA+.
Their remarkable success reflects their commitment to providing an astounding opportunity. With a revenue of $213 million in 2022, it is evident that this business holds interesting potential. In fact, as much as 48% of this revenue could have been distributed as commission, offering individuals a motivating chance to achieve their goals.
LifeVantage is ranked as a AAA+: An awesome opportunity. This makes LifeVantage a top recommendation from Business For Home for 2023 and 2024.
The ranking is based on a number of facts and figures such as:
We have classified the companies in our database into 4 ranks or grades, about:
  5% has a AAA+ ranking, the highest recommendation.
30% has a AA+ ranking.
35% has a A+ ranking.
30% has a B ranking.
Above data is available in the Business For Home app, both for Android as iOS. We recommend to download the (Free) app below.
LifeVantage in the news
LifeVantage, a network marketing company, has demonstrated notable growth with Q4 revenue up 6.4% to a substantial $54.2 million, according to a recent report. This followed an already impressive performance in Q3 of fiscal 2023, where they reportedly saw a revenue surge of 7.5% to $53.7 million, as highlighted here. Earlier in the year, there was also a noteworthy sales increase of 2.8% to $53.7 million as documented in this article.
Further illustrating their growing presence in the market, LifeVantage appointed a new President and Director for their Japanese operations. These achievements and advancements provide a detailed context for prospects, as outlined in a comprehensive review of the company.
LifeVantage in Facts and Figures
LifeVantage, under the leadership of CEO Steve Fife, has shown steady performance in the network marketing sector. During the fiscal year 2022, the company generated a revenue of $213 million, marking a 3% increase from 2021.
Over half of this revenue, specifically $102 million worth, could have been distributed as commission according to the company's compensation plan. LifeVantage, based in the United States, enjoys an AA+ rating from Business for Home, acknowledging it as an 'awesome opportunity'.
The firm currently ranks 13 among the 900+ worldwide network marketing businesses in the Business for Home database. It appears to maintain a fairly exclusive distribution networking, with only seven recommended distributors. Online, LifeVantage garners substantial attention; the Business for Home page dedicated to the company has received over 26,443 pageviews.
2022 revenue: $213 million
Revenue increase from 2021: 3%
Possible commission payouts in 2022: $102 million
Compensation plan payout: 48%
LifeVantage's Rank in the BFH database: 9
Number of recommended distributors: 7
Business for Home pageviews: 26,443
CEO of LifeVantage: Steve Fife
Company location: United States, Utah
Data provide by the proprietary Business for Home Intelligence Engine
(Article continues below)
Recommended Distributors LifeVantage
Here's a glimpse of what people are writing about LifeVantage
From the reviews received for LifeVantage, it's clear that this company has made a significant positive impact on the lives of many of its customers and distributors. A range of compelling testimonies talk about both the benefits of the products and opportunities provided by the company itself.
Mandy Smith, one of the reviewers, shared her transformative experience with LifeVantage products. She stated,
"After just a few short weeks I noticed HUGE changes… I won't go a day without these products! Aging with grace is definitely a better way."
Omar Catanoi mentioned his satisfaction as a distributor for LifeVantage, suggesting that this was one of the best decisions he has ever made. He advised that,
"The only problem you will have with this product and the company is, that you haven't started earlier."
Monette Furcean didn't hold back in expressing her affection toward LifeVantage as a company. She praised the community, culture and the company's mission, stating,
"Their life goal to help the planet while helping people is admirable… we can change our gene expressions through nutrigenomics."
Susan Peterson, on the other hand, lauded the quality of Protandim, one of LifeVantage's products, and its benefits to her health over the years. In her own words,
"I haven't been sick in years…When you have your health, life is great!!"
Her statement reflects a sentiment shared by many in the LifeVantage community – that the products offer tangible health benefits.
To sum up, although the reviews inevitably vary somewhat in their individual experiences with LifeVantage and its products, overall the reactions from the reviewers have been overwhelmingly positive. From health benefits to community and company culture, LifeVantage seems to provide an array of opportunities and benefits that many find valuable and transformative in their lives.
These testimonials imply that the company continues to have a positive impact on the lives of its customers and distributors – and there is every reason to believe this impact will continue into the future.
LifeVantage Conclusion
In conclusion, LifeVantage is a highly regarded company that offers an incredible opportunity for individuals to achieve success. With a remarkable revenue of $213 million in 2022, it is evident that this business has great potential for financial growth. As much as 48% of the revenue could have been distributed as commission, making it a motivating chance for individuals to reach their goals.
Based on the extensive analysis provided by Business for Home, it is clear that LifeVantage has proven itself as an exceptional opportunity worthy of recommendation.
Overall, the comprehensive information and positive analysis presented by Business for Home suggest that individuals who join LifeVantage have a high chance of making decent money and achieving success based on their efforts.
Recommended Distributors LifeVantage