Top Latin Speaker, Omar Villalobos Joins GO Global
October 7, 2023
By Team Business For Home International
GO Global recently hosted an impactful online webinar featuring one of the top three public speakers in Latin America, Omar Villalobos.
During the session, he conveyed his excitement of joining the Go Global education platform while sharing his transformative strategies with the GO Global community.

His course on the GO Learn platform promises to provide in-depth knowledge of the topics he covered during the webinar. With his official partnership as a content provider on GO Learn, participants can now access these empowering insights anytime from anywhere in the world.
"Omar's webinar has left an incredible impact on our community in just 45 minutes.

His courses on our educational platform offer a wealth of knowledge to our GO Family. We're excited about the transformative impact he's had."
– said CEO, Nader Poordeljoo

A key highlight of the webinar was the concept of developing an iron mentality. He encouraged attendees to redefine themselves on their own terms, emphasizing that this was the first step towards achieving personal and professional success.
Additionally, Omar addressed the inevitable challenges that come with pursuing one's dreams. He motivated attendees that envy, criticism, and obstacles often arise, but they should be seen as opportunities for personal growth rather than as roadblocks.
"Omar is a true superstar, ranking among the top public speakers in LATAM. His partnership as an official content provider for our educational platform makes us incredibly proud.

We believe his insights will empower our members to reach new heights in their personal and professional lives."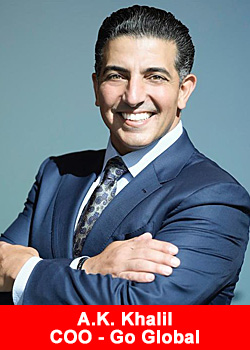 – said COO, A.K. Khalil

As an organization deeply committed to its members growth, GO Global remains dedicated to providing necessary resources, webinars with industry experts, essential tools, and comprehensive training programs to support their journey to success.

About GO Global
GO Global is an affiliate marketing company offering various digital products and solutions.  Of which include an education platform providing the best online training for personal and professional growth as well as its INFIN8 MONEY cash card that allows anyone to easily convert their crypto currencies into cash for use at an ATM or anywhere major credit cards are accepted worldwide.

The company aims to empower individuals with the tools and resources they need to succeed in all areas of their life. To know more, visit us at goglobal.network 
Recommended Distributors Go Global