3 Reasons Why Neora is Built to Win
November 16, 2023
By Team Business For Home International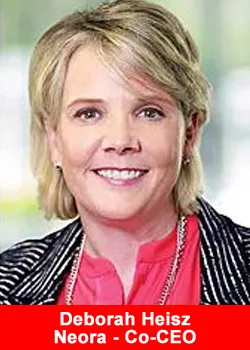 When Neora was awarded a landmark legal victory against the Federal Trade Commission in September, leaders within the organization were not surprised.
Why? Because, according to Neora's Co-CEO Deborah Heisz, the leading science-based beauty and wellness company was built to win from the beginning because of its unwavering approach to doing business the right way.
With nothing to hide, Neora took on the FTC fight to not only represent the thousands of Brand Partners and Preferred Customers, but also the entire direct selling industry.
"It was a privilege to be part of the fight because I believe in this industry,"
said Heisz.
"I believe in those independent Brand Partners, I believe in the entrepreneurial opportunity, and I know that millions of lives would have been impacted negatively had we lost."
When Neora was founded, the mission was simple: Make People Better. Neora's leadership knew that if people were going to trust their products, trust their business model, and trust them as leaders, they needed to do things the right way—no platitudes, no gimmicks, no harmful products, and with the belief that everyone deserves to be treated like family. 
Heisz believes this mindset has helped Neora build a strong customer base worldwide that has helped the company bounce back from adversity and bolsters its future for continued success. 
Why is Neora is built to win? 
Sells Products People Want 
The surest way to increase customer demand is quite simple: Sell products people want.
The company was built on a foundation of making people better which means delivering real products that give real results. Neora's line-up started with a single product that took the anti-aging industry by storm. The multifunctional Age IQ ® Night Cream was designed to address every major sign of aging. T
his powerful product created such a demand that it led to unprecedented sales in the first five years. This early success fueled the desire to create an entire line of clean-meets-performance products that people feel confident about putting on their skin or in their bodies.
Offers a Robust Customers Rewards Program 
Nearly 80% of Neora's sales come from retail customers. The easiest way to become a Neora Preferred Customer (PC) is to simply place an order. There are no hidden fees or gimmicks to sign up for the Preferred Customer Rewards Program, and PCs get exclusive access to savings, rewards and promotional offers. They also see the latest trends in skincare, hair care and wellness that no one else can get.
PCs get roughly 20 to 30 % off retail prices for all product purchases plus even more rewards for referring other customers. This robust customer rewards program is responsible for a stellar customer retention rate with many surpassing 10 years, and a high conversion rate of PCs into Brand Partners who want to turn their excellent customer experience into a career. 
Rewards People for Selling Directly to Customers 
While network marketing and team building are how many people take full advantage of the Neora opportunity, there are still other earning opportunities for those who just want to sell groundbreaking, age-defying products. Up to 35% of the cash value of any product sold goes to the person who sold it and that rate is dependent on the volume that person is selling that month and not on their rank.
This means people can make real money by selling directly to their customers. Those who sell directly to customers are as much of the Neora family as any other person associated with the company. They can still earn luxury trips, can rank advance without recruiting anyone and reap the the benefits without having to build an entire team. 
The Proof is in the Product
Neora's product line has created a legitimate customer demand because the real results are undeniable. Their proven track record of success stems from the strong customer base that has been building for more than a decade. Neora has created a strong brand with a simple goal: to help make people look and feel better. That strong customer base sets Neora apart from other networking marketing companies because there are plenty of opportunities to customize the Neora experience to fit any lifestyle. 
About Neora
Neora is a global relationship marketing company with age-fighting products crafted from cutting-edge research and science. Founded in 2011, Neora has shattered industry sales records while developing a strong customer base in North America, Latin America, Europe and the Asia-Pacific. Neora is committed to providing an excellent product line based in real science. For more information, please visit neora.com.
Recommended Distributors Neora