Bri Richardson, First Tranont Associate To Achieve Executive Blue Diamond
November 16, 2023
By Team Business For Home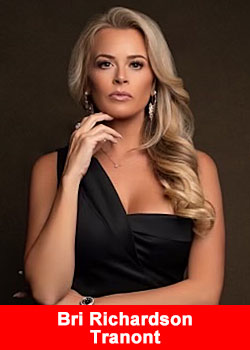 In October, Bri Richardson, a remarkable leader in the network marketing industry, achieved the prestigious rank of Executive Blue Diamond at Tranont.
Bri joined Tranont in January 2020, attracted by its exceptional product lineup, solid business strategy, and rewarding compensation plan—something she felt was the perfect combination to help her team create "big wins!"
Bri first saw the potential with Tranont after trying a few of the products and loving the results she and her family experienced.
Bri came into Tranont from ground zero and spent several months building up her team and her connections in order to grow her business at a time of high constraint.
Even with a few initial struggles, her hard work and determination paid off—Bri hit the rank of Black Diamond within her first year. To date, she's built up a powerful network of leaders across the United States and Canada.
Bri has always been at the forefront of identifying game-changing products that provide lasting value to customers and business owners.
When asked about the secret to her continued growth and success at Tranont, she replied,
"Spotting trends, diving in deep, and driving the social wave. But my biggest wins? Guiding my team to success."
Her latest success, which helped propel her to Executive Blue Diamond, was Transform, a record-breaking sugar transforming enzyme that was launched in October. Before that, she played a vital role in the exponential growth and success of Tranont's premium liquid collagen product, Glow.
"I noticed a lot of attention in the market was starting to trend towards collagen and all the beauty benefits it was providing from the inside. Glow was already an amazing product with a very competitive ingredient profile, I really just helped fuel the fire."
From the beginning of her time at Tranont, Bri channeled all her efforts into Glow from the beginning. With her leadership, #TeamGlow wasn't just marketing the product, they were creating a community around it. Before long, this beauty product has become a movement. And the energy has never slowed down; Glow has been Tranont's top-seller since August of 2021.
Bri's ability to empower and inspire others has been a key factor in the growth of her business and the success of her team. Amber Gustowski, one of Bri's budding stars in Canada who recently achieved Blue Diamond said of Bri,
"Bri isn't just an outstanding presenter; she's a leader of leaders, always ablaze with dynamic energy. But her leadership, friendship, and passion create far more than a mere spark in someone, they ignite the fire."
Since joining Tranont, Bri has nearly tripled the growth of her business. Her current downline consists of a Blue Diamond, four Red Diamonds, three Black Diamonds and 19 Diamonds.
After reflecting on her journey so far with Tranont, Bri concluded,
"I'm thrilled to be able to empower newcomers to network marketing and to be somewhere that rewards experienced leaders like never before. At Tranont, we truly are changing lives."
Bri, on her Tranont journey, concluded,
"My goal as a leader is to help people out-earn and out-achieve anything they've previously done in the industry. And fortunately for me, my business, and my customers—at Tranont, we're not just talking change, we're living it." 
About Tranont 
Tranont, founded in 2003, is a Utah-based health and beauty company that combines high-quality products, wealth education, and entrepreneurial opportunities to change life on a global scale. With a mission to impact one billion lives for good, Tranont operates in the US, Canada, the United Kingdom, and Belgium.
The company's charitable foundation, Lift Where You Live, is dedicated to improving communities by supporting education and alleviating economic suffering. For more information, visit Tranont.com.
Recommended Distributors Tranont