ByDzyne AI Ignites a Digital Revolution: Unveiling Nasdaq MarketSite Billboard
November 14, 2023
By Team Business For Home International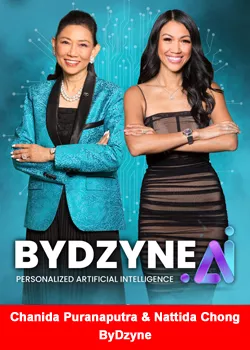 In a proclamation for the ages, ByDzyne officially became the first company in the industry to launch a revolutionary artificial intelligence product, ByDzyne AI, and did so in the grandest fashion by showcasing its highly-anticipated debut on a massive digital billboard at the renowned Nasdaq MarketSite tower in Times Square, New York City, USA.
Averaging close to 400,000 daily visitors, Times Square, the major commercial, tourist, and entertainment hub intersection in Midtown Manhattan, was the perfect location for ByDzyne to unleash ByDzyne AI, a cutting-edge artificial intelligence product that will completely transform how the industry and greater population communicates, strategizes, and conducts business. 
With ByDzyne AI, which is now available on the company's current exclusive Online Marketing Artificial Intelligence (OMA) Pro platform, users will be able to figuratively and unfathomably clone themselves.
By answering a few simple questions, and with the magic of the AI product's state-of-the-art learning feature, users will be able to automatically manage their brand, social media, communication, and marketing tactics with the support of their new and continuously learning AI version of themselves.
It's quite simply a digital product like no other, designed for maximum simplicity and virtually effortless; ByDzyne's executive team cannot wait for the world to see its power and potential.
"We cannot be more excited with the long-awaited arrival of ByDzyne AI!

The world is constantly evolving, and it is predicted that by 2030 more than three billion people will be utilizing the technology and benefits of artificial intelligence.

We have been working diligently to discover and release a product that will revolutionize the industry and we believe we have found it!

ByDzyne AI, with its unbelievable ability to mirror its user, is the next big thing and we cannot wait for the world to see what it can do,"
expressed an excited Chanida Puranaputra, ByDzyne's chairwoman.
While the OMA Pro platform already includes some of the most dynamic AI features on the market today, including a seamless website builder, an analytics dashboard that tracks and offers real-time data, and a game-changing sales and prospecting tool, ByDzyne AI moves the needle even further.
The tool is powerful enough to function as a premier virtual assistant and all-in-one marketing director, handling all branding, social media posts, online conversations, and strategy 24/7, and can also tailor writing style and messages for different occasions and only within a matter of minutes. 
In addition, ByDzyne AI can also learn and apply strategies for any individual or company products, price points, policies, and compensation plan, making it quite possibly a business's most potent and invaluable resource. 
"We don't follow trends; we create them. The future of marketing is here and we believe it's at ByDzyne and with ByDzyne AI! Imagine being able to have a product that thinks like you, learns like you, and basically is you.

With ByDzyne AI, our Brand Ambassadors will be able to capitalize on the world's fastest-growing trend in artificial intelligence and digital communication and we cannot be more enthusiastic.

We love to say that we disrupt the traditional model, but quite honestly, we believe ByDzyne AI and ByDzyne is here to shatter it completely,"
declared a determined Nattida Chong, ByDzyne's cofounder.   
With AI-fueled content creation and its promise to deliver the world's most advanced intuitive automation, the future of communication, content creation, and closing sales is here. 
Its name is ByDzyne AI. And its potential is boundless. Are you ready? 
ByDzyne makes ZERO income guarantees. It takes hard work and dedication to make a substantial income. All results may vary. Between 07/01/2022 to 06/30/2023: The number of active Brand Ambassadors (BAs) who have not received any commissions, bonuses or overrides is 26,560 or 80.23% of such BAs. The median amount of commissions, bonuses and overrides received by all active BAs is $0.00. 80.23% of all active BAs have received, in the aggregate, less than or equal to this amount. 19.77% of all active BAs have received, in the aggregate, more than this amount. The average amount of commissions, bonuses and overrides that have been received by all active BAs is $480.75. For the full IDS, please visit www.bydzyne.com/IDS