Codebreaker Technologies Wins High Honors In 2023 International Business Awards
November 18, 2023
By Team Business For Home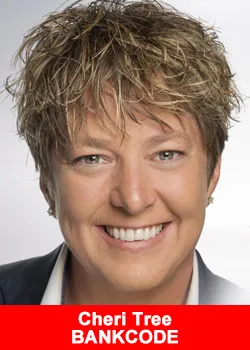 Codebreaker Technologies Wins High Honors in 2023 International Business Awards. Recognized with Stevie® Awards for Innovation and Leadership.
 Innovation, leadership and excellence are founding principles of Codebreaker Technologies, an Orange County based technology company, and the business world is taking notice by giving its highest praise. Codebreaker Technologies was just named the winner of two prestigious Stevie® Awards as part of the 20th Annual International Business Awards.   
The International Business Awards are the world's premier business awards program. All individuals and organizations worldwide – public and private, for-profit and non-profit, large and small – are eligible to submit nominations, with nominations for this year's awards coming from 61 nations and territories. More than 230 executives worldwide participated in the judging process, narrowing the more than 3,700 total nominations to just a handful of elite winners.  
The first, a silver level Stevie® Award for Woman Entrepreneur of the Year was awarded to Codebreaker Technologies Founder and CEO, Cheri Tree. Tree is a well-known entrepreneur and business personality, bestselling author, professional keynote speaker, executive business coach, world-renowned sales trainer and entrepreneur.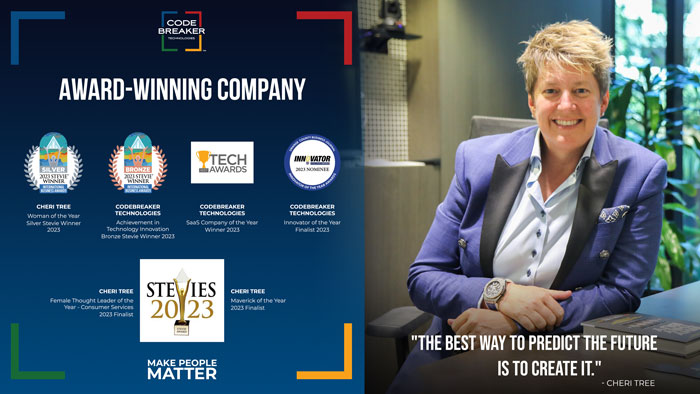 Through her extensive experience, Tree discovered that sales was in fact not a numbers game; it was a people game. This realization shifted her focus from sales to people, and from there, Codebreaker Technologies and its unique, scientifically validated B.A.N.K.® methodology were born. And she's been innovating ever since.   
Cheri Tree said:
"Receiving this award is an incredible honor. Codebreaker and our B.A.N.K. methodology are my life's work – my purpose – so to see that work recognized on a scale this size further proves I'm exactly where I'm supposed to be – helping people build better relationships and increase their influence, income, and impact in the world." 
 In addition to Tree's award, the company received the bronze level Stevie® Award for Achievement in Technology Innovation. When awarding Codebreaker with this honor, the judges had this to say: "Codebreaker Technologies is a world leader in personality coding technology, and they represent a pioneering approach to understanding human behavior and communication.
Through their scientifically validated B.A.N.K. methodology, Codebreaker Technologies has the potential to revolutionize sales, marketing and workplace dynamics globally. Overall, this nomination recognizes the significant impact Codebreaker Technologies is making in transforming the way businesses understand and leverage personality coding for improved results." 
There's no doubt the company's now patented Codebreaker Authenticator technology also caught the attention of the judging panel and further cemented their decision to award Codebreaker with a Stevie®. By seamlessly layering on top of a business' member portal, this enterprise-level solution allows businesses to get valuable data on their customers and members, not previously available to them, and in turn use to that data to predict customer buying behavior, communication style, engagement patterns and more.
Additionally, this information allows businesses to better understand their members' needs and then better engage with their members, whether through communication that resonates with the member or by targeting products or services they know their members want and need.  
 Cheri Tree stated:
"We're honored and humbled to be included among such an impressive group of nominees. Innovation is part of our core values as a company, so to be recognized for being who we are is an incredible honor. But we're just getting started. 

No one has ever done to personality science what we are doing with B.A.N.K. I am proud to be building a company that will change the world and impact families, companies, communities, and all of humanity." 
"Nominations to the IBAs get better every year, and this year's class of Stevie® winners is the most impressive yet," said Stevie® Awards president Maggie Miller. "The winners have demonstrated that their organizations have set and achieved lofty goals. We congratulate them on their recognized achievements and look forward to celebrating them." 
About B.A.N.K.®: 
B.A.N.K. reveals the art and science of influence and is a scientifically validated methodology designed to close more sales in less time. B.A.N.K. is based in buyology, the science of buying behavior. The acronym stands for Blueprint, Action, Nurturing, and Knowledge and an assessment was created to determine a person's BANKCODE in less than 90 seconds (or nanoseconds with Codebreaker AI).  Want to see how it works? Crack your code for free and receive your customized BANKCODE report ($99 value): https://crackmycode.com/cheri. 
About Codebreaker Technologies: 
Codebreaker Technologies is an award-winning technology company and world leader in personality coding technology and artificial intelligence, with clients in more than 100 countries. It's scientifically validated methodology, B.A.N.K., gives companies priceless insights designed to drive revenue, recruiting, rank advancement, and retention. Codebreaker has a number of published studies, including a study revealing that direct selling companies using their methodology and technologies increased product sales by 86% and recruitment by 192%. The company's mission is to connect and empower humanity, and their mantra is to #makepeoplematter.  For more information, visit https://codebreakertech.com.  
About Cheri Tree: 
Cheri Tree is the best-selling author of Why They Buy, innovator of the B.A.N.K. methodology, world-renowned keynote speaker, and award-winning entrepreneur. She has been featured in numerous magazines and publications, including Forbes, and invited to speak at prestigious organizations and institutions such as Harvard, Stanford, Google, GoDaddy, and the United Nations.
Cheri is the Founder and CEO of Codebreaker Technologies, and lives in Orange County, California. She is extremely passionate about serving direct selling and network marketing companies, where she got her start, and speaks at many conferences and leadership events around the world. To learn more about Cheri, connect with her on LinkedIn: https://linkedin.com/in/cheritree.