Digital Creator Sydnee Sleiman Joins MKX Network
November 20, 2023
By Team Business For Home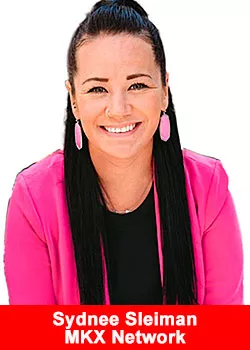 Social Media for Success: MKX Network Partner Sydnee Sleiman.
Sydnee, a dedicated mom and wife, discovered her passion for network marketing eight years ago and transitioned from a retail job to full-time success in the field. Her appreciation for the power of social media led her on a journey to become a social media educator and mentor, helping others in network marketing navigate the landscape. Sydnee shares her background, winning strategies, and alignment with MKX Network's mission.
A Quest for Balance
Sydnee's journey began with a desire for flexibility—an aspiration to be with her son while still growing a thriving business. Social media became her tool of choice, a powerful means to connect globally without leaving the comfort of home.
"I've always loved the power of social media. It allows you to reach anyone worldwide from your phone,"
Sydnee says, highlighting the impact of the digital age on network marketing.
Her alliance with MKX Network is driven by a shared mission to "Educate and Empower Humanity towards True Wealth." The company's commitment to personal, business, and financial development aligns seamlessly with Sydnee's values. For her, network marketing is not just about selling products; it's a journey of helping individuals grow and excel in all areas of life.
Another aspect Sydnee celebrates is MKX Network's focus on digital products like MKX Lifestyle and MKX Trader. In her view, digital products remove the need for physical inventory, making them a game-changer in the industry.
"No inventory taking up space in your house or car; everyone has a device, so digital products are pivotal to success,"
she shares.
Strategies for Social Media Success
As an MKX Network Partner, Sydnee's strategies for effective social media growth are straightforward yet powerful.
"You have to talk about your business to have a business,"

she advocates. A confident presence on social media platforms is vital. Sydnee encourages network marketers not to shy away from showcasing their brands, emphasizing that the reach on social media is exponential.

 

"Focus on presence over perfection,"

she advises when addressing the challenge of perfection paralysis network marketers face on social media. Audiences appreciate authenticity.

"Have a content strategy that is organized for 30 days at a time so that you can be consistent no matter how busy life gets,"

she recommends.

"Use a simple strategy called the 80/20 method"

to strike a balance between promotion and engagement. Focusing 80% on lifestyle content and creatively incorporating business elements ensures genuine audience engagement. Dedicate the remaining 20% to sales, presenting products in a helpful context for the audience.
Sharing a success story from her mentoring journey, Sydnee describes a '30-day LIVE' challenge that resulted in a participant doubling her business through consistent daily engagement. It exemplifies the power of structured strategies and consistent effort in the digital world.
Impacting Lives in 2024 and Beyond 
Looking ahead, Sydnee has impactful goals within MKX Network. She wants to empower individuals toward true wealth by helping network marketers grow on social media. She aims to guide 1000 people in 2024, helping them achieve passive income streams.
 Sydnee's journey in network marketing captures the essence of success in the digital age – authenticity, consistency, and a genuine desire to help others achieve their goals. As she navigates the dynamic landscape of social media, Sydnee not only thrives herself but also lights the way for others seeking success in network marketing.
About MKX Network
MKX Network has taken a significant step toward its mission. Through its diverse offerings, personalized approach, and unwavering commitment to excellence, MKX Network is poised to make a lasting impact on the lives of individuals seeking financial empowerment. To learn more about MKX Network and its innovative products, visit our website at www.mkxnetwork.com and join the movement towards financial empowerment.
Recommended Distributors MKX Network