$1 Billion Lawsuit- Nicole Gubin versus Ambit Energy
May 25, 2011
By Team Business For Home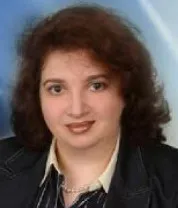 Direct-to-consumer energy retailer Ambit Energy LP was hit Monday with a lawsuit seeking more than $1 billion for allegedly defrauding and harassing an independent consultant it had signed up to recruit new customers. The suit, filed in Brooklyn federal court, accuses the Texas-based company of federal racketeering, fraud and unfair business practices. The plaintiffs, Nicole Gubin and her company, BH Seven LLC, also brought claims of libel, defamation and harassment.
Ambit buys electricity and natural gas at wholesale prices and resells it to customers recruited by a network of more than 60,000 independent agents such as Gubin. The company operates in New York, Texas and several other states with deregulated energy markets.
The lawsuit characterizes Ambit as operating as a pyramid scheme which makes false and misleading statements that constitute deceptive acts or practices. The suit also accuses Ambit's top executives of spreading false statements about Gubin's job performance, poaching her customers and discriminating against her for being Jewish and a woman.
The plaintiffs seek $600 million in compensatory damages, $250 million in punitive damages, $250 million in liquidated damages and $13 million in attorneys' fees and costs. They also requested a permanent injunction enjoining Ambit from doing business in New York.
A representative for Ambit, Robin Stevens, said the company had not had a chance to review the allegations made by Gubin, who is still listed as one of the company's active consultants.But Stevens added that the company has done nothing to defame, defraud or otherwise damage Ms. Gubin, and we are confident these allegations as stated will be shown to be groundless and without merit.
According to the complaint, the company unfairly accused Gubin of violating its policies and procedures and blocked her from operating a website on which she signed up new Ambit customers. She also alleged Ambit attempted to sign up new customers on its own, siphoning off her potential recruits, and withheld monthly payments and bonuses.
The case is Nicole Gubin and BH Seven LLC v. Ambit Energy LP et al., in the U.S. District Court for the Eastern District of the State of New York, no. 11-2483.
For Gubin: Flora Rainer of the Law Office of Flora Rainer.
Source: Reuter
Ambit Energy Review click here

About Nicole Gubin Ambit Energy Executive Suite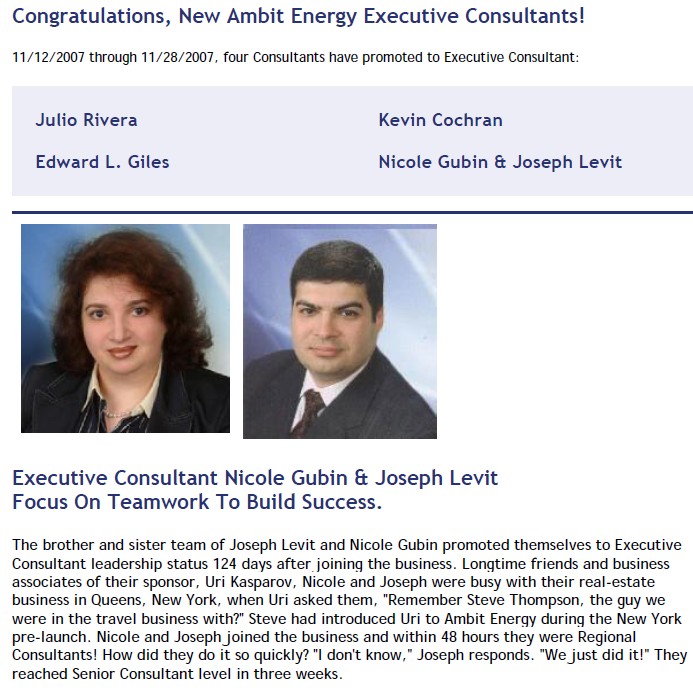 Executive Consultant Nicole Gubin & Joseph Levit Focus On Teamwork To Build Success.
The brother and sister team of Joseph Levit and Nicole Gubin promoted themselves to Executive Consultant leadership status 124 days after joining the business. Longtime friends and business associates of their sponsor, Uri Kasparov, Nicole and Joseph were busy with their real-estate business in Queens, New York, when Uri asked them, Remember Steve Thompson, the guy we were in the travel business with? Steve had introduced Uri to Ambit Energy during the New York pre-launch. Nicole and Joseph joined the business and within 48 hours they were Regional Consultants! How did they do it so quickly? I don't know, Joseph responds. We just did it! They reached Senior Consultant level in three weeks.

Joseph attributes his and his sister's rapid rise to EC level to working many years in various network marketing businesses. It's preparation, he says, something like going to college. You learn and then you're ready. He says in the real-estate business they say location, location, location. In the network marketing business, it's being in the right place at the right time. It was the right time and place for Joseph and Nicole. Nicole says, The travel business was good and a lot of fun, but you cannot compare Ambit Energy to that business at all! The compensation plan with Ambit Energy is beyond comparison. Joseph follows up, But it's not just about us. It's about the team. To be successful you have to help your team and develop your team. He continues, As Uri says, 'Teamwork makes the dream work!'

One Secret To Success You can't be a 'secret agent' in this business, Joseph says. You have to share with everyone. Sharing is caring. We know so many people and we care about them, so we share this opportunity with everyone. He also believes that to be successful in Ambit Energy, a new Consultant must be …teachable, coachable and trainable. They have to participate in the system, go to meetings and events, because it's all about duplication. Good advice there, Joseph.

Ambition 2007 Inspires More Success What a great event! It went beyond expectations and really inspired our team, Joseph recalls about our first company-wide event at the Hyatt Regency Lost Pines Resort & Spa. He was especially pleased and surprised by Ambit Energy VP of Field Development Scott Lawrence's now-familiar refrain, And oh, by the way… when Ambition 2007 attendees received special treatment. Being there and seeing [Co-founder & CEO] Jere Thompson and [Co-founder & Chief Marketing Officer] Chris Chambless, shaking hands and being able to ask them questions – the personal contact was very important. Nicole says it was a mind-blowing event. What she enjoys most about her four-month-long experience with Ambit Energy is the opportunity to change people's lives for the better.

Onward To Illinois Things are going so well for Nicole and her brother that they're planning to go full-time with Ambit Energy very soon. They firmly believe it is their responsibility to lead their business into new markets as Ambit Energy expands into areas where energy deregulation opens new windows of opportunity. We are doing so well in our New York business and now we're moving into Illinois, and there are so many more states where deregulation is happening, says Nicole with excitement in her voice. And the best is yet to come! Yes indeed, Nicole!