Talkfusion In Exponential Growth
June 19, 2011
By Team Business For Home
As confirmed by reliable sources Talk Fusion is in Exponential Growth state signing up approx. 22,000 paid distributors per month, or $5.5 million revenue per month as the entry fee is $250 with a $35 month subscription.
The Video Email Direct Seller has developed seven products: Video Email, Video Blog, Video Share, Video Auto Responder, E-Subscription Form, Video Conferencing and Fusion Wall a 3-D social and business networking site. Talk fusion is an alternative for more expensive Webinar and Video Conference software (f.i. Cisco's Gotomeeting software) and autoresponders.
It parachutes Minh and Julie Ho, the Talk Fusion nr.1 Top Earners, into the Business For Home Hall of Fame with an estimated $200,000 a month or $2.4 million, around the Nr. 40 Hall of Fame position worldwide. (6,000 Top Earners are listed).
The most recent Alexa Ratings of Talk Fusion confirms the exponential growth, the website attracts more visitors then any other Direct Selling website in the world such as Amway, Avon or Coca Cola.com.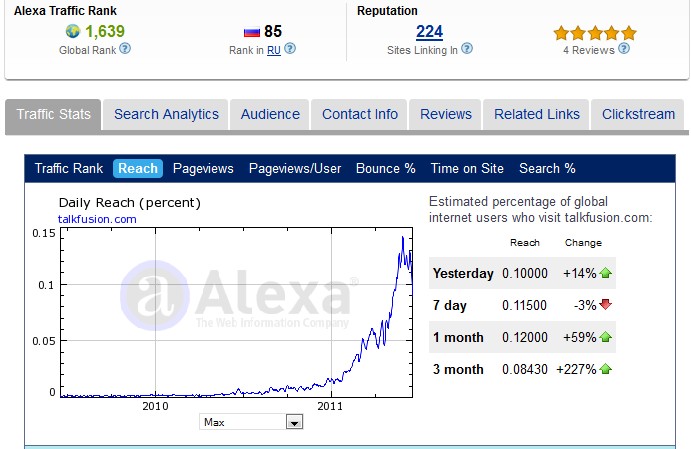 Talk Fusion Top Producers
From left to right: Minh Ho, Julie Ho, Steve Mitchell, Joe Syverson, Mike Kiefer, Tim Kugler.

From left to right:: Mark Genovese, Robert Conley, Zoltan Acs, Mark and Vondalyn Robinson, Rob & Stephney Roder

Corporate leadership
From left to right: Bob Reina – Founder and CEO, Jeanne Dickson – Vice President of Global Business Operations, Susie Reina – Vice President of Business Operations, Jonathan Chen – Director of Information Technology, John Neubauer – President, Allison Roberts – VP of Training & Development