The Steinkeller Brothers – Organo Gold Top Earner Interview
February 24, 2012
By Team Business For Home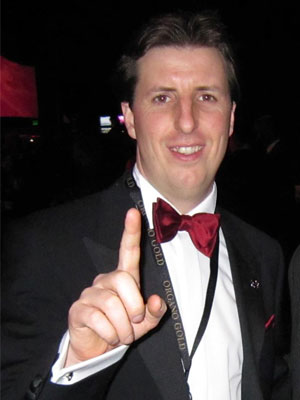 Aron, Christian (photo) and Stephan Steinkeller are from South Tyrol, Italy near the Austrian border. Combined estimated earnings for the 3 brothers are $120,000+ per month. Their Organo Gold team has a size of 35,000+ people.
Aron Steinkeller, born in 1977, living with his partner and three children, became a teacher after graduating from secondary school.
Christian Steinkeller, born in 1978, is married with two children, graduated from a polytechnic college and is trained as a land surveyor.
Stephan Steinkeller, born in 1986, lives with his partner and has one child. He went to vocational college and worked as a salesman in a specialised hiking and climbing store.
What most impressed the Steinkeller brothers from South Tyrol, when a personal acquaintance first introduced them to the direct selling industry in the August of 1999, were the high bonus checks top leaders received. They had attended a business presentation by a direct selling company that used the modern model of network marketing.
They sat down and played around with the percentual bonuses and other figures and soon decided to join the business together. Initially they used the opportunity to generate a secondary income, but after two years they turned their first network marketing business into a full-time venture, which they ran until 2007. "One of our greatest blessings was that we stuck with our initial partner company – we learnt so much over the years."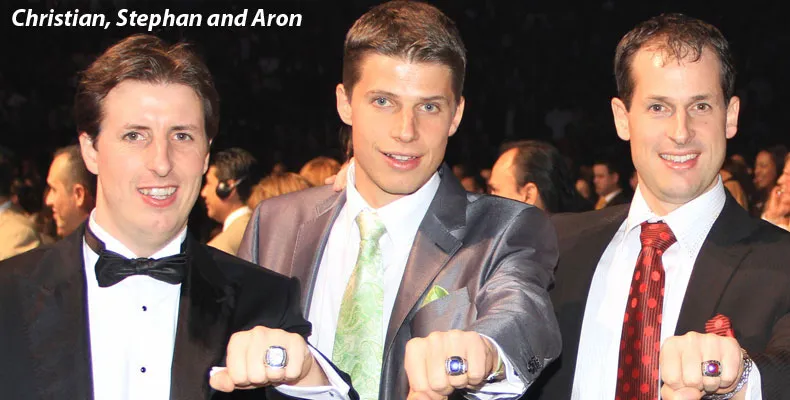 As part of their initial business, Christian Steinkeller found himself on a trip to the Dominican Republic. "Back then", he explains, "we wanted to open up this market for our sales organisation and build up a team there."
We learnt so much over the years
One of the contacts he made in Santo Domingo introduced Christian to Organo Gold's "Cafesito Milagroso". However, it took another year for him to realise the full potential of this "wondrous coffee" – back then, the middle child of the three Steinkeller brothers was way too busy with his network business. "The priest who introduced me to the coffee had managed to build up a sales team of more than 5,000 people, and that without any previous network marketing experience."
The trained surveyor rightly asked himself how this was possible: "Finally it dawned on me – coffee is just an incredibly simple product to sell, and any business based on it is very easy to duplicate." While still in Santo Domingo, he immediately informed his two brothers in South Tyrol, whom he hadn't seen for three years. "They were just as excited by the idea of building up a coffee network as I was," Christian remembers. However, the band of three brothers wanted to play it safe before turning Organo Gold into their new home.
Aron Steinkeller decided to fly to Malaysia in order to visit the company's Ganoderma plantation: "During my visit, I kept on reminding myself that 15 to 20 years ago nobody knew about Aloe Vera, and that Aloe has become an everyday product by now. I am sure that Ganoderma will see a similar boom over the next two decades." And then fate and fortune decided to intervene: "My flight was full of Asians, apart from me and this black American business man.
| | |
| --- | --- |
| | |
| Shane Morand, Christian Steinkeller and Holton Buggs | $1 million check |
Since we both stood out of the crowd a bit, we started chatting and he gave me his business card." During his return journey, Aron had a 10-hour stopover in Singapore. "I actually didn't plan on keeping the business card, but the name on it, Holton Buggs, somehow sounded interesting." To cut a long story short, the eldest of the three Steinkeller brothers kept the card and called him. "I just wanted to know how he was and what he was doing. Buggs explained to me that he is in the coffee business."
A strange coincidence indeed, but Aaron Steinkeller had just made friends with the Number One at Organo Gold, Holton Buggs. On 2nd January 2010, the three brothers met with Buggs and got his OK for the Europen opening.
As appointed representatives of Organo Gold, the "Three Musketeers" prepared the ground for the company's expansion into the old continent.
We are now definitely playing in the premier league of direct selling
"We took a lot of work off our American partners' shoulders. The EU has 27 member states with around 500 million inhabitants. We maneuvred Organo Gold through all of its different legal requirements and language barriers." It was worth the effort: "By now our business empire has grown throughout several European states and stretches as far as Asia and America." The brothers from South Tyrol have managed to build a team consisting of a five-digit number of business partners, generating an estimated annual income of some million Euros: "Having built a solid foundation over our first year, we are now definitely playing in the premier league of direct selling." Ideal conditions for anyone with good contacts, whether nationally or internationally.
Just like Dumas's legendary Three Musketeers, the trio has always worked according to the motto, "one for all, all for one!" "We work as one", the brothers emphasise, "we have always worked to support one another, even financially if there every was a need." Sibling rivalry was never a major problem between the three brothers: "We have always been a great team. We have never known rivalry, but always thrived on our mutual support.
| | |
| --- | --- |
| | |
| The European Team | The Family |
If at all, we're rather in competition about who the greatest team player is." When it comes to business, Aron, Christian and Stephan are always in touch with one another: "Everybody plays the part he is best at; be it giving presentations, organisation and administration, or foreign languages."
Christian, for instance, is the man for the Spanish speaking markets: "What inspires me most about Organo Gold is the strong emphasis on values such as family, loyalty and personal development, and not only the money." All three firmly believe that, "there is nothing bad about stumbling and falling down, as long as you get up once more than you've fallen."
The Steinkellers neither have university degrees nor other diplomas: "Our parents went to university and actually had the same in mind for us. However, our common sense was more than enough for us to recognise a good business opportunity." Meanwhile, all the hurdles for the European market have been mastered. "The labelling and product approvals have been sorted out, organisational and bureaucratic issues have been solved.
"One for all, all for One!"
Whoever starts with us now will find open doors to the whole of the European Union and has the opportunity to become a business partner of the first hour in Europe. And all of that with a product everyone knows and almost everybody consumes, coffee"
Indeed, there is hardly anyone who has never tried coffee, so the business could not be simpler. There is no need for laborious training or elaborate product presentations.
Newcomers really can benefit from the magical Steinkeller mix: "We complement each other very well, based on our different experiences and skills." Christian Steinkeller knows what it means to make sacrifices. During his time in Santo Domingo, he lived in circumstances that most Europeans would find untenable: "Sometimes I had to shower at my neighbour's place, because I didn't have water. My great advantage is that I forget negative things fairly quickly and don't bear grudges for very long."
| | |
| --- | --- |
| | |
| Stephan Steinkeller Climbing The Alps | Aron Steinkeller |
Aron Steinkeller has taken on the role of the architect: "I need a detailed plan and strong working routines. From the beginning I was convinced of Organo Gold's success." This conviction was quickly translated into innumerable
presentations, both online and in person. Stephan Steinkeller is responsible for crunching the numbers: "I am constantly looking at the figures and making calculations, and time and time again I have reached the same conclusion: coffee and network marketing are a recipe for success!"
Other ingredients in this recipe are the visionary management at Organo Gold, as well as the highly lucrative compensation plan. "We simply cannot think of anything that could work better. That's why we would never consider another business idea in network marketing!" What the Organo Gold business comes down to in the end is very simple: "We drink coffee, we talk about it, and we show other people how they too can generate a stable income in this global mega-market. Our business plan, in a way, works like a syphon – you get it going once, and the money streem keeps on flowing. The only difference is that, unlike a petrol tank, our coffee tank never runs empty."
Newcomers can count on the Steinkeller dream team for professional support. "Support is not only guaranteed by our marketing plan, but is also a central tenet of our business ethics." In exchange, however, the three Musketeers demand commitment: "We are positive proof that you can be successful and we're more than happy to show you how. All that newcomers have to do is to make a firm commitment to replicate and implement our business concept."
"The most important thing is to be happy.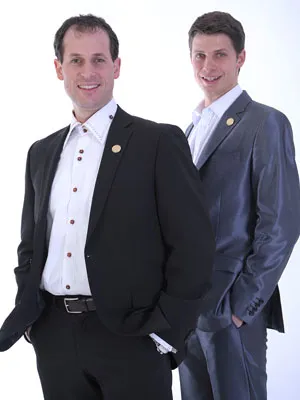 People who make excuses or try to unnecessarily reinvent the wheel all the time would definitely be in the wrong place at team Steinkeller. To date, Organo Gold has presented the three brothers from South Tyrol with nothing short of an amazing journey: "Never before have we been able to help so many people on their path to success at such a high rate. Thanks to our weekly bonus payments, new distributors make their first earnings immediately, which makes all the difference in reinforcing their commitment to the business." Experienced networkers know exactly what the Steinkellers are talking about.
The trio now enjoys a lifestyle that they would probably not have achieved without network marketing and Organo Gold: "The traditional corporate world offers hardly any opportunities to achieve financial freedom. Similarly, the chances of winning the lottery, inheriting a fortune or marrying rich are also very slim." Aron, Christian and Stephan Steinkeller have never relied on such coincidences in their lives:
"If you want success, simply join people who are already successful. This is exactly what we did in 1999." Money, of course, isn't everything, even though it makes many things possible. "The most important thing is to be happy. As brothers, we are now expanding our brotherhood to an evergrowing family – our team. Follow the laws of nature and reap the benefits of cooperation – never work against one another, but harness the power of synergies!"
Steinkeller Brother Contact Details:
www.facebook.com/christiansteinkeller