Conrad and Jill Padilla – MonaVie Top Earner Interview
June 18, 2012
By Team Business For Home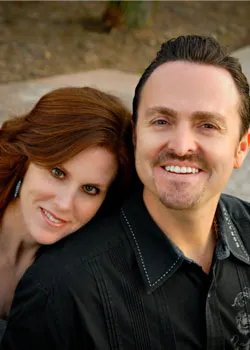 Conrad and Jill Padilla reside in Corona, California, USA and live a life by their design with their 2 daughters, thanks to Community Commerce/MLM.
They love spending time with family and friends and traveling the world together. They are MonaVie's first White Diamonds in North America. They have earned a spot in the MonaVie's Millionaire Club and are among the 50 highest paid people in MonaVie and rank among the top 500 in earnings in Community Commerce/MLM as listed in businessforhome.com.
They pride themselves in working the business together and having the ability to change lives through the vehicle of Community Commerce/MLM. Conrad is bilingual in English and Spanish and their business is in North America, Mexico, Europe, Asia and Canada in just 5 short years.
Conrad worked as a stockbroker for 13 years with Morgan Stanley and UBS, then opened up 2 traditional businesses where He and Jill worked side by side to build. They were successful but had no time freedom. They refer to this as time poor. Conrad and Jill's passion is helping others achieve total success. They are always looking for new recruits to present the opportunity to.
Ted Nuyten had the honor to interview Conrad and Jill Padilla.
Who introduced you to the world of Network Marketing and why did you accept the invite?
We were first introduced to Network Marketing through the MonaVie opportunity from my cousin Angelique and her husband
Todd Hartog
. They came over one day to share the product and the opportunity and within a very short time the product started working for me. My wife and I decided that we would jump on board, we knew we had something special and we trusted their judgement in business.
They were already successful people and we did not want to be left behind! When one of our mentors, Darrell Utterbach told me that we network everyday of our lives by referring people to our hairdressers, contractors, great restaurants or a good book and we never get paid for that referral, I thought, you're exactly right! It just made sense! With my background as a Stock Broker, I knew economic trends and health and wellness was something we needed to be part of.
I knew regardless of the economy, people are always interested in better health and more wealth. I also was aware that I was making money only when I was at my job from 6:30 a.m-8:00 p.m. yet my monthly bills were 7 days a week 24 hrs a day! In Network Marketing you can build a residual income that builds 24/7 because of your team that live in different time zones all over the World.
| | |
| --- | --- |
| | |
| Conrad and Jill Padilla On Stage | MonaVie Convention |
What attracted you to Community Commerce/MLM as a business model?
Our attraction to Community Commerce came when we realized that the more people you help win, the more you win. Nothing is more rewarding than watching other's achieve success and seeing their personal development grow beyond their belief! The strength of your business will always be a reflection of the leaders that you have helped create.
How important is personal development for you and for your team? Do you have a magical system in place?
Personal development is so important for your success in this business. We must invest in ourselves to be the best we can be. This is done by reading, listening and participating! We are in the business of great products but what builds a large organization is understanding that personal development is key. It is the person you become that is priceless! Our skills that we have, or lack of them, are duplicated in everything that we do.
MonaVie does have a system in place which is the first of it's kind in the history of Network marketing! It is a simple and duplicatable system that works everywhere around the World as your business grows. With having a system in place that EVERYONE is following, there is no confusion on what to do or how to do it. This is key when you cannot be everywhere in your business. You can direct them to the system and the tool does the talking for you!
You are White Diamonds in MonaVie, how did you do it?
Our journey to White Diamond came from years of personal development from our prior experiences and our past careers. This helped us establish a foundation to build on in MonaVie. We never stop learning and growing and this industry is a breeding ground for creating the personal growth anyone desires. Knowledge is power in this business and we have spent hours upon hours learning from people and mentors like John C Maxwell, Jim Rohn, Darrell Utterbach, Brig Hart and Randy Schroeder.
https://www.youtube.com/watch?v=j5YYlu3_7cc
This business is not just about making money. It's about changing lives. – Dallin Larsen, founder of MonaVie
We value relationships and lock arms with the people who have the same desires that we do. We have sponsored approximately 155 people, most are consumers but because of the power of compounding, we now have approximately 75,000 people in our organization world wide.
Many of these are receiving income every single week from MonaVie for over the past 5 years. It only takes a handful of people to build an amazing life for you and your team. We have never forgotten what it takes to build an organization, always sponsor and always build relationships. Team work makes the dream work!
What is your personal strength in Direct Selling?
Our personal strength in Direct Selling is developing leaders. We provide the environment for absolute success by getting people started immediately with the proper training and mentorship. We lead by example and have high expectations of ourselves. We want our people to be able to take the helm of their own businesses and be the leader they have always desired to be.
Why are people teaming up with you?
There are many products in the world of Community Commerce that are amazing, but very few MLM Companies that are amazing! A company must have a proven track record with a proven leader in place such as Dallin Larsen. Dallin had already proven himself in another company.
We joined MonaVie because we knew that we could build a business that could be passed on to our children and their children. We look for people who want to build with us and create long term relationships. We have found that people are attracted to our team because they know that we are not going anywhere and neither is MonaVie.
There is a saying out there that we heard from one of our mentors, Brig Hart, Bloom where you're planted.
What advice would you give somebody checking out a MLM opportunity?
The team you are on is everything! Make sure you are getting involved with someone who is still working their business. The speed of the leader is the speed of the team! Do they have experience in growing the business in other Countries? Ask yourself if this person is someone you want to be in business with, integrity matters!
We have a saying in this business, Are they wave riders or wave makers? Do they jump from one MLM to the next, whatever is the latest and greatest? Do they fully understand the network marketing calendar? Your reputation is riding on you being involved with the right company and the right team!
In conclusion, do you have any killer advice for our readers?
Many people can make money fast in Network Marketing and not understand how they got there. We are not in the enrolling business, we are in the sponsoring business, there is a BIG difference. Being a responsible sponsor is the most important thing that you can do.
This is not the lottery. Network Marketing is a relationship and personal development business that can give you a long term residual income and a life on your terms!
Contact details:
Conrad & Jill Padilla
White Diamond
MonaVie Independent Distributor #436053
Youtube channel: conradandjill
Twitter: conradandjill