Vemma Challenging ViSalus
August 26, 2012
By Team Business For Home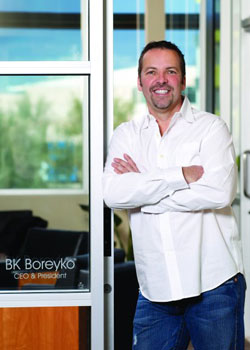 Ted Nuyten spoke with BK Boreyko, CEO Vemma about the new Bod-e Line, a healthy weight management solution:
BK : This weekend we will be making a pretty big announcement regarding our Bod-e line.
Things have been great with the line in the US and Europe.
In fact, Europe had $1 million in presales and last month, their first $1 million month with the Bod-e brand. The USA is a little under $3 million a month with the Bod-e line brand, so I am very happy 9 months into the launch.
Dr. Wang, our Research and Development Director and Chris Powell design a shake unlike any other shake on the market. Chris says this really completes the Bod-e line and when you combine it with our app and eating plan, it is really head and shoulders above the competition.
We will launch this shake in two flavors on November 1st in the US. Chocolate and Vanilla Ice Cream, like all of our products, it is the best tasting shake on the market and also has the Vemma formula in it.
Our R&D team really studied and pulled apart the top 15 MLM and retail shakes in the industry and there's a huge gap between ours and anything else. From the taste to the ingredients to the packaging, I'm actually super excited about this launch. My goal is to have this shake in 40 of our 50 countries by January 1st. Since it's listed as a food, it's way easier to get in to these markets.
I really see this Bod-e brand where ViSalus was two years ago. Since Chris' show is in 100 countries, seen by 14 million people, I'm going to take this shake, Chris Powell's reputation and our new incentives to 40-50 countries before ViSalus.
You combine this with the explosion in the #YPR (Young People Revolution) market with Verve, we can get the young people and the boomers (they call themselves BOOM! Revolution) with one company. After all, 50% of the world's population is under 30 and 50% is over 30. Verve is tracking to become a 2 million can a month brand by the end of this year.
Really amazing what these young people are pulling off. These young people are really tapping into the 'grocery dollars' mentality where these kids are already buying Monster, Red Bull, etc. They just switch their buying dollars.
Well, with this shake, Bod-e for the first time gets to tap into that mentality where people can actually save money by not spending $$ of meals and replacing them with our shake. This I'm super excited about especially in markets like India, Mexico, Eastern Europe where incomes are tight. It's tough to get people to spend more on a supplements in these markets. This should really help to unlock massive volume there.
BK Boreyko: I am more pumped today than ever before!