The Opportunity Network – OPN Review 2012
September 30, 2012
By Team Business For Home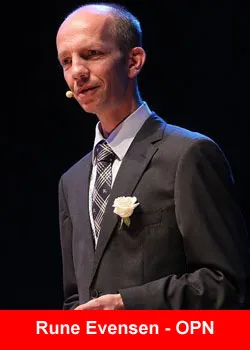 The Opportunity Network (OPN) is a Direct Selling company based in Singapore. Jarle Thorsen founded the company in 2009, Rune Evensen is CEO. Sitetalk 2.0 is a free social community rewarding Steltalk/OPN members for building a social network through personal referrals. Over 42,000+ people voted for OPN as the Top Direct Selling opportunity for 2012.
The SiteTalk community has approximately 12-15 million registered users while OPN has approximately 300,000+ activated profiles. OPN combines powerful business and social trends with a direct selling compensation plan.
OPN is working hand in hand with 37 experienced law firms around the world to ensure the company is compliant with all regulations and laws. It is Sitetalks's ambition to become one of the top 5 Social Network Providers worldwide, and OPN's to become one of the top 5 Direct Sales Companies worldwide.
Upon a registration with Sitetalk , a free Social Network Platform (SNP) that combines social networking with integrated services the member also receives a free membership with OPN. This OPN membership is classified as dormant until such time he/she decides to utilize the business model. There is no obligation to activate this membership at anytime.
As a member of SiteTalk you are given access to a variety of third party products and services. The company is looking for DSA membership. Estimated Sales Revenue 2012 $20 – $ 50 million.
Products
Sitetalk is branding its self by using/implementing 3 individual methods:
Traditional marketing, ads in newspapers, billboards, buses.
Internet Marketing.
Direct Marketing utilizing The Opportunity Network – OPN
The company signed a contract as the main sponsor for the AC Milan football schools in Asia. This was done through an intermediate company called "Football for Life Ltd Hong Kong.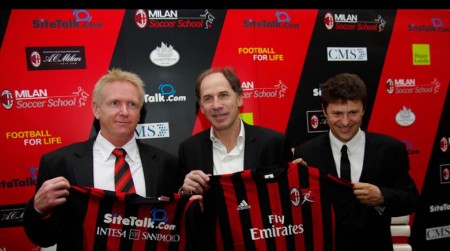 Sitetalk and OPN have a number of products and services including 3 Advantage Packages consisting of a number of products and services that the Free SiteTalk/OPN member can purchase if he so wishes to. The advantage package offers a saving of approximately 30% against buying the products/services individually which anyone can do. Also offered online are Sitetalk Games, Sitetalk Deals, that can be played/purchased using Sitetalk Credits. ALL products and Sitetalk Credits have an associated BV (Business Volume). On the accumulated BV of purchases made from any Sitetalk/OPN member directly in the shops, commissions are paid according to the actual com-plan.
Sales are produced through direct purchases of products and services in the shops through the Sitetalk/OPN members who are in fact the end consumer.
SiteTalk 3.0 Intro
Compensation Plan
OPN is offering a binary compensation plan, at no time can anyone earn anything for recruitment. For all members to Sitetalk.com the registration is 100% free, at the same instance the ST member receives a FREE OPN membership with zero obligations. A free SiteTalk user can activate his/her free dormant OPN position by accumulating a certain number of BV (business volume) through his and/or through his personally sponsored Sitetalk members. Each product/service has an associated BV value. A number of the products being offered are third party, some joint venture and some are Sitetalk/OPN's own.
Upgrade: The Business Advantage Package is €165 ($216) the Professional Advantage Package is €550 ($725) The Premium Advantage Package € 2,250 ($2,900) to purchase.
There are 3 income streams with the OPN compensation plan:
A "Direct Sales Bonus"
A "Network Team Bonus" (Binary/2 group system)
3. A "Matching Bonus".
Direct Sales Bonus (DSB):
As a Basic Member, Bronze Member or Gold Member on all personally generated sales you will receive a 10% commission based on the Business Volume (BV) associated to the various products and services. There are no other requirements to be able to receive the DSB commissions.
Network Team Bonus (NTB):
On the total Business Volume (BV) generated in a business cycle (I week) in the "lesser leg" you will receive a 10% commission. One BV is equal to €1. This weekly commission is capped at a maximum payout of €500 for a Basic Member, €2.500 for a Bronze Member and €12.500 for a Gold Member.
The leg with the lowest sales volume within a calculation period (one week) of your 2 legged structure (Binary). 10% of this Business Volume (BV) is paid out weekly. The same amount of Business Volume (BV) x 2 (double) will be deducted from your "Greater" leg (the leg with the higher Business Volume for the weekly period).
OPN Corporate leadership & Founders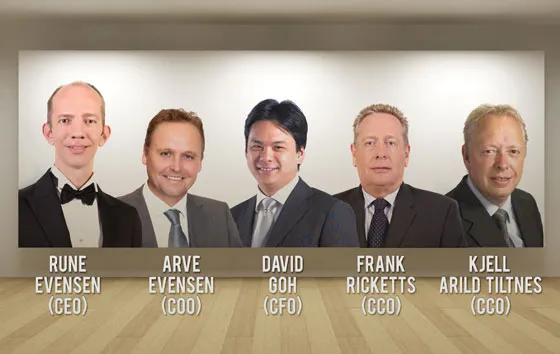 Rune Evensen – CEO (Chief Executive Officer)
David Goh – CFO (Chief Financial Officer)
Frank Ricketts – CCO (Chief Compliance Officer)
Arve Evensen – COO (Chief Operating Officer)
Kjell Arild Tiltnes – CCO (Chief Communications Officer)
Rune, David and Frank are existing members of the OPN management team. Arve and Kjell Arild are new executives.
Arve Evensen – Chief Operating Officer
Arve is aged 53 and comes from Norway where he began his professional career as a Master Watchmaker, building a successful chain of stores with 21 outlets. He is also the inventor and founder of Zpey System which is an international brand of fly fishing rods and equipment. It is from this background that Arve first gained his skills as an experienced businessman and networker with an eye for opportunities and customer service.
Arve then moved on in business and was responsible for the listing of a Norwegian telecommunications company on the Norwegian stock exchange. Arve is a recognised trainer, speaker and coach in Scandinavia where, for the last 13 years, he has been training on leadership development, staff development, business psychology and conflict resolution.
Kjell Arild Tiltnes – Chief Communication Officer
Kjell Arild is aged 47 and comes from Norway. In his diverse career, Kjell has always remained close to his area of passion which is communications and marketing. He has worked in the media for over a decade as a journalist, reporter, presenter and editor in radio and TV. He has gained valuable corporate and marketing experience as a project manager and events manager with company greats such as Audi, VW, Ford Motor Company, Nokia, etc.
He has also worked in service and customer care, and has been highly successful in the field of Network Marketing, having succeeded as both a distributor and as a Chief Communications Officer for a Scandinavian Network Marketing Company. He has additional experience as a trainer, public speaker and coach in Scandinavia.
OPN On Facebook:
OPN – Sitetalk Top Producers
[private_platinum]
More Top Producers will be added after the convention in Budapest (6 October 2012)
| | | | |
| --- | --- | --- | --- |
| Kenny Nordlund | Matthias Dix | Nils Hogberg | Flora Tang |
OPN – Sitetalk Top Earners
Coming Soon!
[/private_platinum]