Tina Williams – MonaVie Gold Leader Interview
September 18, 2012
By Team Business For Home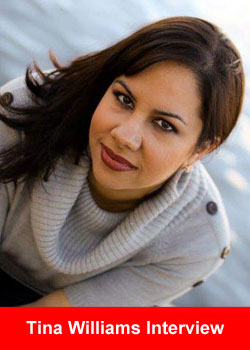 Tina Maria Williams is a work at home mom with a traditional business, a writer with a first book release in Spring 2013, and a Gold Executive with MonaVie.
Originaly from Los Angeles, California she currently resides in Scottsdale, Arizona with her husband Larry and son Jackson.
Her sponsor Onyx Coale, one of MonaVie top earners says: Tina is one of my favorite distributors. Why? She is innovative while still being teachable. In today's world, you want to pick a GREAT company that you can remain loyal to and you want to PICK your sponsor.
I believe you want someone who has a GREAT work ethic, innovative, and teachable. Tina is ALL of these. I am lucky to know her.
Ted Nuyten had to honor to interview Tina.
Tina, how did you get involved into MLM?
I was introduced to MLM about 10 years ago by my boss, and drove two hours to go to a presentation. I was instantly hooked. I have to say, though, if it weren't for the presenter explaining everything in such a simple and relatable manner that I probably wouldn't have signed up.
How has your life been changed by this industry?
This industry is one of the most educational experiences you could ever have. I love that you asked to interview me because I think often times people forget there is success beyond the 7 figure money earners. Often times, individuals look at success in this industry as being defined by how many zero's fall behind the number in your paycheck.
My income level, (Gold Executive) with MonaVie is about $50,000 a year and that's a part time income. Not bad for extra cash! I just got back from a free Carribean cruise with my husband and son paid for by the company. I'm at a level that most industry leaders don't even bat their eyelashes at.
Yet, here we are, with our lives changing. Whether it's a few extra hundred or thousand dollars a month to help with a car or house payment, making new friends who constantly tell you 'yes you can', the personal development, the better life via our products, or being able to stay home with your children, lives are changing, at all levels. My life changed the day I decided to sign up in this industry. I've made lifelong friends in the trenches of this business, and it's been the most rewarding and incredible experience of my life. After all, I met my husband at a network marketing event!
The Williams Family
Which moments in your MLM life were decisive for you?
The most decisive moments have happened within the last 2 years. I use to believe that working with the right leaders is what the key to success is, and while that is somewhat true, it's not the key. The right leader is you, and what you do is what matters. Onyx Coale, who signed me up in MonaVie is one of the most incredible individuals I know, and she is one of the biggest advocates of developing your own leadership. I love this! Here's a woman who makes millions a year as a single mom, and everyone considers her one of the top leaders in the industry, yet she's more into helping the people on her team become their own leaders. This was a hard lesson I took a long time to learn.
I spent 10 years following my 'upline' from company to company thinking they were the key to my success. While I have learned more than I could ever have imagined from them, I missed the most valuable lesson. It's about what I'm marketing, not who. I needed to find something solid I could get behind, and people are too much of a variable. Find a company with a message you could get behind, make a commitment to them, and to your team.
When I signed up in MonaVie this March I remember telling Onyx, I'm in this for the long haul. I don't care if in 5 years I'm the only person on my team at a convention, I will be there. It's a message I constantly am conveying to my team. They know where my loyalty lies, they know where my heart is, and most importantly I know where I'll be 5, 10 years down the road. It's because of this bigger picture vision that things started to change for me. The instant I changed my way of thinking doors seemed to open up. The right people started coming into my life and the building the business became easy.
What are your thoughts on integrity?
Social media has changed our industry. Ten years ago, when I got started, I had no idea what was going on in other companies. Ignorance is bliss. Social media is a double edge sword for network marketing. While it is great to know what else is out there, it is also a major distraction. The grass seems greener on the other side, and people jump ship to check it out for themselves. I know this mistake all too well.
When you sign up in this business, it's about your own future. However, when you start sponsoring people into the business, you've painted a picture for them as well. You now have a responsibility for your team and I don't think enough 'leaders' take this responsibility seriously enough. I heard a great interview with a top income earner recently who went from company to company and while he admitted his reasons at the time seemed justified, it really just boiled down to his own personal circumstances for his decision that had no reflection on the company at all.
I think that if people who have left a company before are honest with themselves, they'll admit this is the truth for them as well. 99% of the time, it was the truth for me. While I spent some time looking for the right company in the end, and have found my home, I know that if I had stuck to my guns in the beginning I would have found success regardless. I don't regret my mistakes, because I couldn't be happier with where I am, but I know it's a mistake I won't make again.
I've learned to become selfless and realize that building this business successfully means I have to build others up on a strong and solid foundation. I tell my team all the time; I am your sponsor, your upline, your cheerleader, your biggest fan, your supporter, your shoulder to cry on, your advocate, and your ally, but I am not your leader – you are.
Any last thoughts?
My last thoughts are for my fellow distributors and associates of all mlm companies. We are in this industry as a whole and what we do reflects on all of us. This is an industry that is highly criticized and we have to be conscious of what we do. While I can't tell people to stop recruiting people from other companies, I can say this: If you truly believe in what you are marketing, then help those who have not been fortunate enough to experience all this industry has to offer.
There is enough people in the world who still don't know who we , as an industry, are. Let's help ourselves, by helping others. Every time someone in a company reaches a top level, earns 6 or 7 figures, receives an award, it's a win for the industry. Let's applaud them, not try to recruit them.
I'm honored to be a part of this incredible industry, and am excited to see all the successes that are to come!
Contact Details Tina Maria Williams:
www.facebook.com/TinaMarieWilliamsMV