Dan and Becky Maes Join bHip Global
October 30, 2012
By Team Business For Home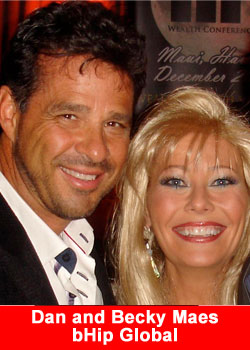 With a Combined 30 Years Experience at the Top Levels of two Highly Successful Network Marketing Companies and in the Health and Nutrition Industry, Dan and Becky Maes MD See Their Next Multi-Million Venture as part of the bHIP Global Family
Vista, CA, USA: When it comes to "powerhouse" couples in Network Marketing, Dan and Becky Maes MD are right there at the top. For the last two decades, Dan and Dr. Becky have proven they have the right stuff when it comes to achieving multi-million dollar success in this industry, helping others achieve success, and making a powerful difference in the wellness of tens of thousands in the process. After two years of doing their due diligence, looking at dozens of companies, products and compensation plans, they say they've found the best of the best all in one place with bHIP.
"We are so fired up and so is everyone we talk to," Dan and Dr. Becky said. "We see bHIP as a 'last stop' company for us and lots of others. bHIP is virtually a start-up in North America, fresh and new, and ready to explode with North American President Ray Grimm at the helm, but it also has the experience and stability of a multi-million dollar company operating in more than 40 Countries thanks to the expertise and vision of Founder Terry LaCore. bHIP is the most perfectly timed and positioned opportunity I've ever seen!"
Both Dan and Dr. Becky know an opportunity when they see one. Dan left a prestigious International corporate job more than 20 years ago replacing his six-figure income in one year after starting his first Network Marketing venture. He went on to become the Top Volume producer for 7 years in a row and multi-million dollar income earner. Dr. Becky is a Board Certified Gastroenterologist. For over a decade she operated a thriving medical practice in Tucson Arizona. She is also a nationally recognized expert on the treatment of what is fast becoming an international health crisis – degenerative, inflammatory and cellular disease.
Her passion for helping her patients nutritionally, and desire for more family time led her to become involved in the same Network Marketing company as Dan. Love soon blossomed, they married and then went on to their second Network Marketing venture—this time as a couple. Together, their mutual passion for helping people financially and physically opened the flood gates to even more success. They built a powerful organization of more than 30,000 distributors with a volume of $13 million in their last of 7 years. And, together they created another multi-million dollar success story in Direct Sales.
"We don't see what we do in Network Marketing as a job it's truly a lifestyle" Dan said. "We call it four-stepping and you can do it anywhere, at any time and with anybody: take the Products, become a Product of the Product, share your story every day and everywhere, show others how to get started with the products and/or business and finally, teach others to do the same thing you are doing. Not everyone will want to do the business, but you never know when that one person who becomes a customer becomes your biggest business builder.
That's what happened with Dr. Becky and me with our second Network Marketing company. We didn't really need the money at that time of our life. When the guy who eventually sponsored us told us about our last company, we told him we just wanted to try the products. We spent the first few months as just product consumers. We loved the products so much, we woke up one morning and knew we had to do the business. The guy that sponsored Dr. Becky and me ended up earning millions of dollars because we said yes. It's a great example of persistence and patience. It's also a great example of the kind of opportunity we have at bHIP."
Dan and Dr. Becky love the fact that bHIP has one of the industry's strongest customer acquisition programs with its DNA Repair b:Exceptional Challenge, Three for FREE, not to mention a solid, well-balanced weight loss program and products. They also love that bHIP is a vibrant, young company in North America, with a strong international presence, which they say will help them to impact the health, wellness and finances of more people than with any other company they've been part of in the past.
"I've seen a lot of great products in the Direct Sales industry having been on several scientific and medical advisory boards, but when you have a DNA Repair product that no one else in the industry has, backed by 8 patents and more than 40 studies, well there's really nothing that compares," Dr. Becky said. "Combine that with all the other incredible bHIP products, and a compensation plan that anyone can understand and easily create income with, and you have a company that has everything to create unbelievable geometric growth in this industry. You can tell by the young, vibrant, purpose driven, 'hip' crowd that's joining bHIP, this company will be a household name here soon. We are thrilled to be part of making that happen!"
BodHD and bHIP joined forces in September 2012 to create one of the most exciting and powerful Global Strategic Alliances in recent Networking Marketing history. Part of the alliance includes a massive marketing campaign utilizing blip's proprietary anti-aging DNA Repair (AC-11 technology) products. The campaign called b:Exceptional includes a program allowing anyone to purchase three full size DNA Repair products for only $100, a 60% savings off the $250 Retail price, when set up on auto-delivery.
In addition, during this limited time campaign, the first auto-delivery order is reduced to only $50 and the entire $50 is paid to the Distributor that created the order. The Distributor then earns an ongoing residual income on all continuing auto-delivery orders. bHIP, which is in its fifth year in business, is projected to do over 75 million annually in sales, mostly in international markets spanning more than 40 countries. Its global headquarters is located in Melissa, Texas, with additional support facilities in St. Paul, Minnesota and Branson, Missouri. The North American Sales and Marketing Office is headquartered in San Diego, California.
For more information, please contact:
Tammy Boonstra
bHIP North American Sales and Marketing Office
San Diego, California
(760) 597-2427