Vijay Eswaran – CEO QNet Featured in Forbes
November 20, 2012
By Team Business For Home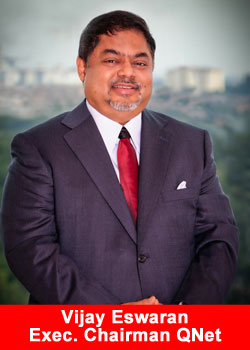 QNet ltd, or QuestNet or GoldQuest or Qi limited, is a Hong Kong based direct selling company owned by the QI Group. In 2011 sales at QI group reached $430 million. The company sells a variety of products including energy products, nutrition, watches, jewelry and vacation packages.
The company's marketing strategy follows a multi-level marketing model, depending on independent representatives to refer its products to consumers and receive compensation based on the sales volume of their referrals and the sales volume of other independent representatives in their teams who are arranged in a binary fashion.
QNet is a member in the Direct Selling Association of Malaysia and Singapore. It has offices in some Asian countries such as Indonesia, Philippines and Taiwan and it also operates or has operated in other countries such as India, Saudi Arabia, Egypt and Côte d'Ivoire.
Forbes has featured Vijay Eswaran the executive chairman in the Asian edition:
It's a triumphant return to Indonesia for the Malaysian founder and chairman of the Qi Group, a young giant of multilevel marketing with sales that could approach $1 billion in the next couple of years. His annual three-day convention, training session, pep rally and lovefest, the VCon, has attracted more than 8,000 of his company's so-called IRs. These are some of the 4.5 million independent representatives who buy and sell his products, creating networks that they call a chain of prosperity, giving them a business of their own and a vision of a better life.
Wrapped up in the adulation, it's tempting for Eswaran to forget the last time his event was held here, in 2007. An obscure lawsuit in the Philippines had mutated into an Interpol arrest warrant, clapping him and three senior executives in jail for three weeks. Indonesian courts scoffed and set him free; a Manila court dismissed the charge soon afterward. But Eswaran remembers it as one of the consequences of building a business in which some people expect a get-rich-quick scheme and feel cheated when they don't get one.
Or as one reveler put it, "Just because there's no limit on what you can make doesn't mean you don't have to work. Some people don't, some do." A young man from Malaysia, Omar, was without prospects in 2009 when he joined Qnet, the company's keystone division, to sell personal-care products to a few friends, who told other friends. It was tough going at first, but now he can afford to move out on his own and wants to get married next year. "It has changed my life, and it has changed me," he says. "For all of this I thank Vijay Eswaran."
People such as Omar have helped Eswaran emerge as one of the most charismatic of Asia's self-made businesspeople over the past 20 years. Selling the simple things of day-to-day life such as cosmetics and discount phone cards, while also building a thriving gold coin business, has made the 52-year-old one of the richest people in Malaysia. Forbes Asia estimates his net worth at $500 million, based on his stake in the unlisted company as well as holdings in real estate and fine art on display in his lavish homes in Kuala Lumpur, Bangkok, Sydney, Hong Kong–where the Qi Group has been headquartered since 1998–and London. (The company won't divulge his stake, saying only that it's a majority share, but insiders there indicate that it's between 70% and 90%. Qi also won't disclose its annual profits.)
The other part of the interview can be found here
Source: Forbes, Selling A Better Life