Banners Broker Review 2012
December 5, 2012
By Team Business For Home
Banners Broker is an online advertising company, founded in October 2010 by Chris Smith and Kuldip Josun (Kuldip left the company in 2012) offers affiliates the opportunity to advertise their business online while simultaneously earning publishing revenue.
Chris Smith is the sole owner of Banners Broker International since inception and is the sole signing officer for the Banners Broker International bank accounts.
Top earners as Simon Stepsys and Jens Holvoet are leading the way.
Banners Broker places your advertising on the publishing network and as an Ad-Pub Combo member you earn your initial advertising cost back twice according to Banners Broker. Moreover, you don't even need to own your own business or website.
If you don't have a business or website, you can promote your own free Banners Broker affiliate website. According to several sources Banners Broker sales revenue is around $40+ million per month with 300,000+ affiliates.
For this review we have contacted top leaders in Banners Broker, corporate executives, former top affiliates and employees and researched the Banners Brokers on-line presentations.
Banners Broker Products

and Services
The company uses its buying power to sell banner impressions to the highest bidders, this is being done through a blind advertising network. A – banner impression- is the number of views a banner will get on a website, and is something else then banner clicks.
According to wikipedia a blind advertising network offers companies good pricing to direct marketers in exchange for those marketers relinquishing control over where their ads will run.
As a member you have to upload your own banners, or the Banners Broker banners, targeting your niche and region, country or city and Banners Broker will place your banners automatically on the internet and generate traffic for your website. You can also advertise different businesses with different banners, all at the same time.
The company offers 6 different packages; they all have a different colour. Each package includes a $15 monthly admin fee.
A member who buys the $25 package will receive 1,000 banner impressions (panel cost of $10). The other $15 is the monthly admin fee. Each package also includes the value and the amount of impressions of all the other lower priced panels. So when you buy the Professional Pack, it includes a yellow, purple, blue and green panel.
Available packages:
Banners Broker – Starter Pack $25: Includes 1,000 Banner Impressions

Banners Broker – Basic Pack $55: Includes 5,000 Banner Impressions

Banners Broker – Business Pack $145: Includes 13,000 Banner Impressions

Banners Broker – Professional Pack $415: Includes 40,000 Banner Impressions

Banners Broker – Enterprise Pack $1,225: Includes 121,000 Banner Impressions

Banners Broker – Ultimate Panel Pack $3,655: Includes 365,000 Banner Impressions
What do Banner Impressions cost through other on-line publishers?
Feedjit a well known publisher, check it out here gives you 2 Million Geotargeted or 6 Million Global Ad impressions for $49. It would cost you more then $18,000 in Banners Broker to get the same amount of Banner impressions (5 times the Ultimate Panel Pack). So as an advertiser you have far better alternatives, however that is a business decision and not a red flag. A company is allowed to price its services as it wants, and sizes of banners variates.
Banners Broker Publishing Network
Banners Broker does not disclose – in the Blind network version- which websites your banner impressions run. There is a choice network version where some small websites are disclosed. In our opinion a very small percentage of your intitial investment will be spend on Banner impressions, however that is again a business decision and not a red flag.
Finch Sells, a well known internet marketer, did an indepth analyse about the service offering.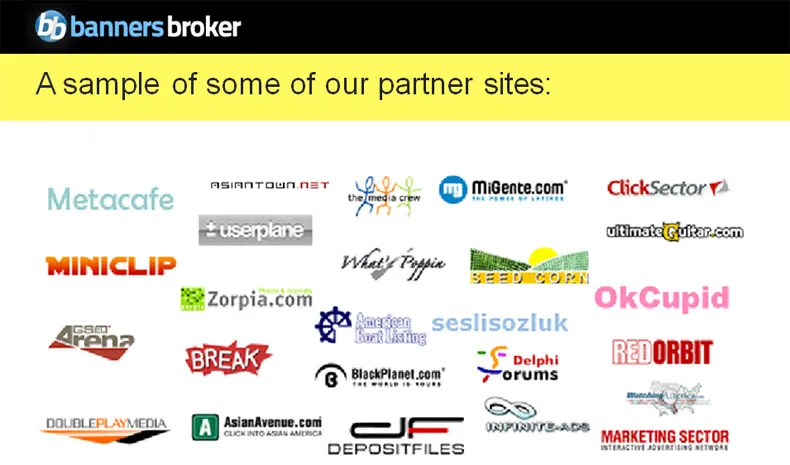 Banners Broker Compensation Plan
Banners Broker is not a traditional Multi Level Marketing or Network Marketing company but is a direct selling company with an affiliate business model.
According to Banners Broker affiliates:
After reaching the traffic cap panel, Banners Broker gives twice a 1,000 banner impressions. Simply put: your $10 panel turned into 2 new panels of $10, giving you a payout of $20. 50% is being paid out in cash (if you put your complimentary 2 panel re-purchase settings at 50%) and you will receive the other 50% in the value of new panels.

Eventually you will make $20 in cash + 2 yellow re-purchased panels that you can start up again and which will generate $20 of revenue again.
In our opinion Banners Broker's marketing department fail to explain how above compensation plan pay out is financed which leads to speculation whether or not the whole concept is a Ponzi as announced by MLM watchdog Rod Cook and MLM helpdesk Troy Dooly.
Banners Broker Corporate Business model
Banners Broker is paying out an huge amount of commissions to its sales force, so the question is how does the company finance their operations? In our opinion their profits are coming from the next sources:
$15 monthly admin fee. Per 100,000 members $1,5 million profit per month is flowing into Banners Broker bank account.

Very, very huge profits on the Banner packs. Banners Broker sell their Banner impressions to affiliates / investors 100 time

s

or more above the market value. According to Banners Broker 10% is used to buy Banner Impressions on websites. (Source Dublin convention 2012)
Conclusion
As long as affiliates keep pushing the business model, the enormous profits generated by Banners Brokers will growth and the company will most likely not have any cash problem.
When Banners Brokes looses its present momentum and affiliates withdraw their profits / investment in a massive manner we doubt the business model will last, however a traditional bank institution can not survive a bankrun also. The Irish newspaper Sunday World has grilled a Banners Broker affiliate in an investigation.
Banners Brokers could be the hottest thing on earth or a Ponzi scheme, the company is not open and transparant about their compensation plan. You decide. Our advice to Banners Broker affiliates is to withdraw profits very fast, an company E-wallet is NOT a safe bank account…..
Banners Broker Top Earners est. earnings:
[private_platinum]
[/private_platinum]