Nerium International – $100 Million In Revenue In First Year
April 5, 2013
By Team Business For Home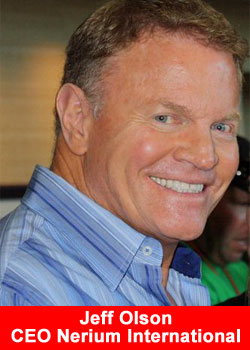 Nerium International Receives the 2012 Global 100 Bravo Award for Growth
Nerium receives the 2012 Global 100 Bravo Award for growth in business. With the astounding amount of sale growth in the first year of business the Bravo Award was an honor to receive for the success.
The Global 100 Awards were initiated in 2010, honoring the top 100 direct selling companies in the world. In the same year, the Bravo Award for Growth was introduced. The Bravo Award is granted to the company with the greatest percentage of certified revenue increase over the prior year.
Nerium International, a company that markets breakthrough skin care products validated by science, is pleased to receive the 2012 Global 100 Bravo Award for Growth.
John Fleming, Publisher and Editor-in-Chief of Direct Selling News, which publishes the Global 100 list, says, "In my many years in the industry, I do not think we have ever experienced a brand new company achieving $100 million in revenue in its first year of business. This achievement is a testimony to the leadership team, quality of product, service and support but also a tribute to the thousands of people who have chosen Nerium as customers and brand partners. This is really a remarkable accomplishment!"
Nerium International, which launched in 2011, did not launch in a rush. In fact, one of the company's core values is to "slow down to go fast," a concept that laid the foundation for the company's phenomenal public reception.
Still, Nerium International's CEO and Founder, Jeff Olson, was only willing to put his confidence in a product with more than a decade of research behind it. "My dream was to create the perfect direct sales company," says Olson. "The combination of a long-range company mission, a well-planned business opportunity and a scientifically proven product allowed Nerium International to achieve the coveted Global Bravo Award for Growth."
"Receiving this award really further validates the breakthrough product that NeriumAD is!" says co-Founder and Vice President of Marketing and Culture Amber Olson. "It is exciting for us to see the growth that comes from truly satisfied consumers, which in turn creates a fast-growing business for our brand partners."
Brand partners, or those who sell the company's flagship product, NeriumAD, are the primary focus of Nerium International. In fact, as President and co-Founder Dennis Windsor says, "Our management team is totally synched with the field. We listen, trust, empower and truly love our brand partners."
While every successful business keeps a keen eye on its sales, Nerium International is about more than just the money. With programs such as Nerium Gives Back (to help boost brand partners' financial success) and the Nerium Ripple (to make an active difference in others' lives), along with the company's partnership with Big Brothers Big Sisters of America, it's clear that Nerium International has sought to offer authenticity and value from day one.
About Nerium International:
Nerium™ International, LLC, headquartered in Addison, Texas, markets breakthrough products validated by science. In 2011, the relationship marketing company partnered with Nerium SkinCare™ Inc. (a subsidiary of Nerium Biotechnology, Inc.®), to deliver the NeriumAD™ skincare line. These first-of-their-kind products – clinically proven to reduce the appearance of fines lines and wrinkles – are the result of leading-edge research into the Nerium oleander plant and its age-defying results when applied to the skin.
Led by an executive team with more than 150 years of collective experience, Nerium International is committed to developing and distributing skincare products that are rooted in real science and produce real results that improve consumers' lives. For more information, please see the Nerium site.
Nerium Top Earners est.earnings
[private_platinum]
[/private_platinum]