Rippln Mobile App Review 2013
April 28, 2013
By Team Business For Home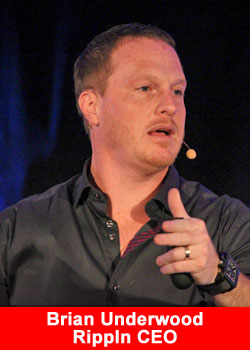 Rippln Mobile App is a mix of network marketing and mobile marketing to give users a chance to earn money while playing and sharing the Rippln Mobile App. It's an application for mobile devices with which users can communicate with each other, interact with advertising and buy third-party affiliate offers and other apps through.
The website was registered on 23rd of September 2012. As of April 2013 est. 200,000 free affiliates are registered. Corporate offices are most likely at the same address as bHip Global, in Melissa, Texas, USA.
Affiliate membership to Rippln is free. Free affiliates must recruit 5 new free affiliates in order to qualify as a Player Affiliate.
Player Affiliate's can then opt in to become either Domestic Affiliates – earn on downline who are in the same country as the Domestic Affiliate – or Global Affiliates, earn on a global downline.
Founders are Terry LaCore (bHip Global CEO), Brian Underwood – CEO, Jonathan Budd, Jim Bunch and Jenifer L. Grace – bHip Global General Counsel.
Rippln Founders:
| | | | |
| --- | --- | --- | --- |
| | | | |
| Terry Lacore | Brian Underwood | Jonathan Budd | Jim Bunch |
Rippln Compensation Plan:
Coaching Bonuses
Rippln affiliates can earn a domestic and global coaching bonus every time one of their directly recruited affiliates upgrade or qualify to either Domestic or Global affiliate status.
The Coaching Bonus is paid out using a perpetual 1-up compensation plan structure up to 10 recruited affiliates, and one in every 5 after that. Rippln affiliates keep the Coaching Bonus earned on the odd-numbered affiliates they recruit, within their first 10 recruited affiliates.
Every second recruited affiliate is paid to their upline.
After the first ten recruited affiliates every 5th recruited affiliate that generates Coaching Bonus by upgrading or qualifying for Domestic or Global affiliate status is then passed up.
Most likely the Domestic Affiliate Coaching Bonus is $80 and the Global Affiliate Coaching Bonus is $240.
Matching Coaching Bonus
For every odd recruited affiliate who upgrades or qualifies as a Domestic or Global affiliate, Rippln pay out a 25% matching bonus on their Coaching Bonus earnings. For every even recruited affiliate, the Matching Coaching Bonus is a 50% match.
Rippln App Commissions
Rippln App commissions are paid out using a unilevel compensation structure. A unilevel compensation structure places an affiliate at the top of the structure with every personally recruited affiliate placed directly under them.
Rippln Launch Meeting in Texas April 13