iWowWe Appoints Dawn Wright-Olivares Ex ZeekRewards To CMO
June 28, 2013
By Team Business For Home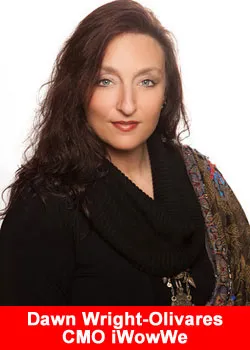 Dawn Wright-Olivares ex ZeekRewards CMO, has been appointed to Chief Marketing Officer (CMO) for iWowwe.
Featuring in an iWowWe marketing video, Wright-Olivares introduces herself as the new Chief Marketing Officer of the company.
Bill Starkey, CEO iWowWe commented as follows:
I want to address a few things here right away. First and foremost, Dawn and her team are unable to comment on anything relating to Zeek as it is a legal matter and their attorneys are handling as it should be and as is critical in all cases like the one they are dealing with.
When I approached Dawn and her team to come on board with iWowWe, I did so because they are the absolute best in the industry and broke every record in MLM history. I was honored to meet her and am THRILLED that they came on board with iWowWe.
1. Cases like these are how innovative business models get worked out. That doesn't mean there was any "wrong-doing", regardless of the final outcome.
2. Zeek brought in the best compliance minds in the industry to try to help work out that business model, all while trying to manage record-setting growth, outside fraud attacks, and over-zealous affiliates.
3. Who knows better how to deal with a challenge — someone who's never had an issue, or someone who's been through trial by fire?
Continuing on that thought… In light of the increasing scrutiny of the government into the direct selling business model, I want someone with first-hand experience dealing with that scrutiny — not someone who's just been lucky to avoid it.
4. RE: Dawn speaking out publicly about her involvement with Zeek, simple answer: There's an ongoing case. She can't talk about it publicly. DUH.
5. Bottom line: I've known Dawn and seen her work for years. She's a brilliant — BRILLIANT — marketer, with first-hand experience in the increasingly challenging regulatory environment, and that's why I hired her.
Is the industry just supposed to forgive and forget? She'll have to deal with whatever consequences come as a result of the case. But she gets to move on, in an industry she has dedicated most of her professional career to. I'm happy to be giving her a second chance, and feel very confident in my decision to do so.
Source: Behind MLM