Talk Fusion Celebrates Worldwide Success In Indonesia
September 19, 2013
By Team Business For Home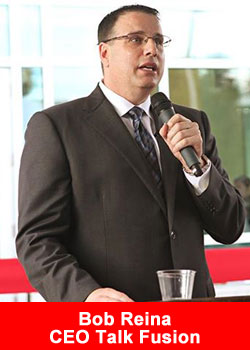 Talk Fusion Associates are just now returning to their homes around the globe, inspired and energized by what they experienced at the Florida-based video communication company's latest international corporate event.
The BELIEVE World Tour Event was held in Surabaya, Indonesia on September 6-8, 2013. It brought new and veteran distributors of Talk Fusion's cutting-edge Video Communication Products together to recognize their success, unveil new products and showcase Talk Fusion's ability to help individuals worldwide achieve their dreams through its unique direct-selling opportunity.
Announced by Founder & CEO Bob Reina and VP of Training & Development Allison Roberts, and organized by top Indonesian leaders, the Surabaya event celebrated the lives changed by Talk Fusion in Indonesia and beyond. In addition to the main corporate event, Associates were invited to participate in peripheral activities such as Business Opportunity Presentations, Diamond Rush Training and an exclusive Black Tie Nite for those who have achieved the rank of Diamond or higher.
There was even a Mercedes Car Parade, which allowed those Associates who have qualified for a brand-new luxury auto in Talk Fusion's Mercedes Madness Car Bonus incentive to join in on a caravan and show off the results of their hard work throughout the city.
During the main event, a "grand launching" that showcased the impact the Talk Fusion Opportunity has had on individuals and families across Indonesia, Associates were recognized for their hard work and success. Bob Reina also unveiled such forthcoming premier products as the 3-in-1 Talk Fusion CONNECT Live Broadcasting, Video Conferencing & Desktop Share and enhanced Video Blog.
He also astonished the sold-out crowd with a surprise gift of $100,000 USD to Indonesian orphanage The House of Life Foundation, inspiring many of those in attendance to make their own donations, including a $25,000 USD contribution from Presidential Blue Diamonds Minh and Julie Ho of Las Vegas, Nevada.
"Talk Fusion has helped create so much success in Indonesia, and it was important to us to be there and thank everyone for their commitment," said the Talk Fusion Founder & CEO. "It's also just as important to give back to the community, in keeping with Talk Fusion's culture of caring."
About Talk Fusion
Talk Fusion is a rapidly growing global company dedicated to changing lives through providing cutting-edge personal and business Video Communication Products and a lucrative business opportunity. Talk Fusion's innovative products are marketed person-to-person by independent Associates in more than 140 countries.
The company was founded in 2007 by CEO Bob Reina and is based on a unique perspective of the Relationship Marketing business model. While other companies pay commissions weekly or monthly, Talk Fusion introduced the world's first and only Instant Pay Compensation Plan. Bringing the world together through the power of video by delivering a superior solution is a top priority because Reina—a former Hillsborough County Sheriff's Deputy—and the Talk Fusion team have a passion and enthusiasm for charity, and helping people live life on their own terms.
The company adheres to the highest ethical business practices and is an accredited member of the Better Business Bureau and the prestigious Direct Selling Association. Mr. Reina firmly believes that "with great success comes greater responsibility." To that end, his commitment to giving back has benefited numerous charitable organizations. "Like" Talk Fusion at www.facebook.com/TalkFusion. Learn more about us at www.TalkFusion.com, www.TalkFusionGivesBack.com and www.TalkFusionInTheNews.com.
Income Disclaimer:
Any earnings portrayed in any Talk Fusion marketing materials are not necessarily representative of the income, if any, that a Talk Fusion Associate can or will earn through his or her participation in the Talk Fusion Instant Pay Compensation Plan. All references to income, implied or stated, throughout the Talk Fusion Instant Pay Compensation Plan are for illustrative purposes only. These figures should not be considered as guarantees or projections of your actual earnings or profits. Talk Fusion does NOT guarantee any level of income or earnings to any Associate; any representation or guarantee of earnings would be misleading. The purchase of a Talk Fusion Product Package is completely optional and is not required for an Associate to participate in the Talk Fusion Instant Pay Compensation Plan.