Bob Reina – CEO Talk Fusion Interview
November 1, 2011
By Team Business For Home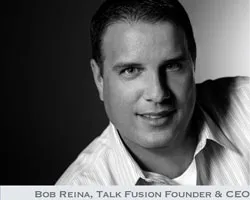 I got a phone call from Top Earner and Triple Diamond Steve Mitchell:

Hi Ted, sorry for the short notice, I am now in Amsterdam – The Netherlands with Bob Reina CEO Talk Fusion, Allison Roberts, Vice President of Training & Development and Triple Diamonds Andrew and Nancy Burling.
Do you like to interview Bob tomorrow morning? We are traveling through Europe, flying out tomorrow evening. So your reporter Ted Nuyten traveled to Amsterdam and had the honor to interview Bob Reina.

Talk Fusion is in Momentum and the Nr. 1 website in the world of Direct Selling according to the Alexa Ratings. Estimated 200,000 distributors in 114 countries are active and a second office in India is established. The company has more than 100 MLM companies as customers using Talk Fusion's communication platform. The estimated revenue for 2011 is $100 million and is fast growing. A large part of the success, and a hidden secret, is through the Instant Pay Compensation Plan.
Bob Reina is a former police officer, and is founder and CEO. He attended the University of South Florida, USA and upon completion of his collegiate studies, he entered the Tampa Police Academy where he graduated number one in his academy class while earning the prestigious Award of Merit.
As a police officer, Bob served in many capacities involving patrol, crimes against property and major crimes against persons. In 1990, Bob was introduced to network marketing and decided to engage it on a part time basis while still employed as a police officer. Even though he was working as a law enforcement officer.
While many know Bob Reina to have quite a sense of humor, it's no joke when he says: "In order to be successful, it takes commitment over a period of years, and I mean a lot of them." Self-discipline helped him remain farsighted in a career that had many bumps as well as forks in the road. Bob juggled several jobs while completing his coursework at the University of South Florida.
Anyone recognizing his picture might be having a flashback of Bob pulling them over during his patrol days. In response to an entrepreneurial itch, however, Bob began using good old-fashion desire and sweat to make it as a part-time associate in direct selling.
His passion for marketing led to boldly giving-up a steady paycheck. Family and friends called him crazy, but he had a clear-cut vision for success. In a recent survey, "Bob's vision" was actually the reoccurring reason that Talk Fusion's marketing and technology experts joined his team.
He brings insight and dedication to work, and he also brings family pets (like his loyal dog Shadow) to the office each day. Therefore, it is no surprise that much of Bob's free time goes to actively supporting non-profit groups to help animals.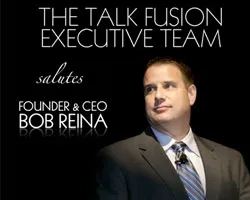 Bob, What is your background as a distributor?

I worked as a police officer early in the nineties and was helping my church that day. I was pitched by an Amway distributor in a restaurant, I did not sign up but a couple of weeks later I was in a MLM telecom opportunity. I remember, by the way that I was dressed as a police officer in my first business opportunity meeting, scaring the presenter…
I was able to become the top producer for my networking company in the state of Florida.
That opportunity did not work out on the long run as 2 other Telecoms, all 3 closed the doors. I have also been with Alliance USA, Travel Reaction and Formula 1, all USA based companies. Travel Reaction is a travel company with business management offices located on the West coast of Florida in Tampa and is still active.
I was the founder of Cash Card Worldwide and served as President. Throughout 15 dedicated years in networking, I have been in the top 1% income earners of multiple companies while servings on their advisory boards.
In 2004 I wanted to email a 10-sec video to friends. America Online said it couldn't be done; but I believed it could. With the help and expertise of an IT genius friend, we achieved the seemingly impossible and we perfected the idea of putting videos into emails. I decided to start my own video communications company and launched Talk fusion in 2007.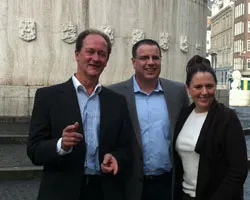 What is your vision on compensation plans?

I never liked in my distributor days I had to wait for weeks before I could collect my distributor earnings, so I developed the first Instant Pay Plan. While other companies pay commissions weekly or even monthly, Talk Fusion pays commissions instantly.
You really can change your life and live your dreams starting on day one. The moment a distributor has a sale, we pay out the same day. It really motivates our people, it is a major differentiator.
Are you developing new products?

We are working on an application to email video's with 1 click from your mobile phone such as an Iphone, Ipad or any other mobile device. We are pretty sure it will be a huge success.

Looking back to the start of Talk Fusion, would you have chosen a different strategy nowadays?

Yes, I would bring in more experienced leaders and I would choose a lower price point for the product offering. We started with a package of $399 including a web cam. A lower price point would have excellerate sales and momentum sooner.
Looking to distributors versus customers what is the ratio and which countries are the top 5 in Sales?

About 50% of the turnover is realized by customers, in sales revenue the Top Talk Fusion countries are: USA – Czech Republic – Hungaria – Germany & Austria, Dubai, and Romania.
Giving back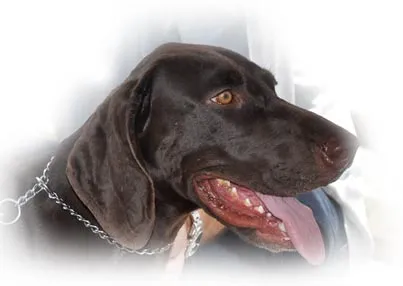 Bob has made it possible for Florida's Hillsborough County Sheriff's Office to add another smart, young dog to its K-9 Unit. Reina Thunder Roberts, a German Shorthaired Pointer from Europe, is the latest addition to the unit.
Bob Reina, and Allison Roberts, were recently elected to the Board of Directors for the Humane Society of Tampa Bay. They are dedicated to helping provide a voice for helpless animals, helping them find forever homes, increasing donations to the Humane Society and lowering euthanasia rates. As Board Members, they and Talk Fusion will continue to be instrumental in bringing projects like this to reality.
| | |
| --- | --- |
| | |
| Steve and Yvette Mitchell – Talk Fusion Top Earners | Andrew and Nancy Burling – Talk Fusion Top Earners |