John And Nadya Melton – Vemma Ambassador In Less Than 90 Days
October 5, 2013
By Team Business For Home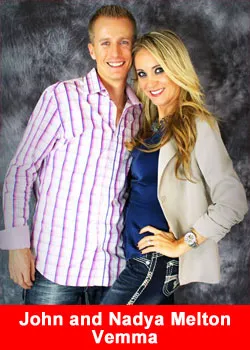 John and Nadya Melton met in the Network Marketing industry at the age of 21. Over the last 12 years, they have built teams of thousands and have been top producers, President's Club members, created millions of dollars in revenue, featured in Success From Home Magazine multiple times.
They reached the 2nd highest position in the previous company that they left back in July.
"We researched over 25 companies looking for a new home. We considered variables such as product, timing, leadership, culture, international footprint, comp plan and systems.
Through research we found an interview of Anthony Powell and BK Boreyko, "Why Anthony left Herbalife to join Vemma" on the Business For Home.org website
AP mentioned that he built his entire Herbalife business online. We learned later that he had also helped hundreds of people make 6 and 7 figures from home using different advertising and online methods. We felt we had mastered the "off-line system" via Home Meetings, Hotel Events, etc. We were excited about combining what we knew how to do offline with AP's internet system.
We were out almost every night and Saturday morning building our old company for the final 5 years. We have 2 beautiful kids – 9 & 5. We wanted a business that could truly be built from home as a real option for the individual that wants a "home" business.
We hit the position of Ambassador in less than 90 days of resigning from our previous company. We have over 100 people a week joining our Vemma business. The products are revolutionizing the nutrition industry because it's RTD (ready to drink), delicious flavors, branding and health benefits.
We love the diversity of being able to offer adult and kid's liquid nutrition, weight management line and a line of insanely healthy energy drinks. We are advocates of the Vemma nutrition since our household has been consuming the products for years.
We absolutely love the binary compensation plan due to the simplicity. The binary is also great because you only have to build 2 teams. It's about volume, not levels. Everybody works together and shares the volume which creates fear of loss, excitement and momentum like nothing else.
Also we love being able to build our business in all 50 states and over 50 countries, using Skype, Google Hangout and Social Media.
We feel so blessed and honored to have partnered with Vemma, BK Boreyko and Anthony Powell. The most exciting part of this new journey is the phenomenal people on our team that have become like family to us! We've never had so much fun and seen so many new people have such quick success. God lead us in this direction and we are so grateful."
Vemma Top Earners, the est. earnings are as follows: