Nuverus Launched In Malaysia
October 9, 2013
By Team Business For Home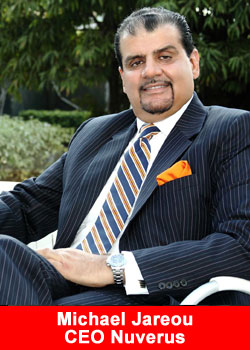 Nuverus International has officially opened their Head Quarter in Malaysia.
Michael Jareou – Founder & CEO and Akram Alani – President of International Development among many others, attended the grand opening event in Malaysia Saturday, October 19 to celebrate the launch of its 19th international markets and the excitement was electrifying Nuverus Malaysia.
Malaysia is one of the many countries added to the Nuverus repertoire of international markets and with much fanfare, the celebration featured thousands of new Malaysia Nuverus Associates.
"It was an incredible gathering," said Michael Jareou, Founder & CEO. It was an occasion to share stirring successes of nuverus and inspire people to move the Nuverus opportunity from their heads to their hearts. We are very excited and proud of how it turned out."
"Yes for sure we we want to grow this company to a multi billion dollar company; most important, we want to grow Nuverus to be the most successful company in the entire direct selling industry by helping people from all walks of life to reach their dreams.

Akram Alani President of International Development say's
They have one of the high growth potential country for NuVerus. People chose Nuverus International because they believe in the products, the compensation plan and the company.

Our leadership is among the best in the industry. We continue to push the boundaries of success to attain higher goals and accomplishments. Nuverus strategic planning allows us to enjoy the profits of our achievements.
Speaking on the company's performance in Malaysia Dr. Tohid Abdul Kareem stated:
Nuverus is about the empowerment of individuals through the strength of loyalty, unity, & edification. Nuverus has a industry leading compensation plan which makes everything possible. It's an innovative and generous plan that will reward for leadership and commitment. The power of Nuverus has already created incomes that have been life changing.
About Nuverus
NuVerus is the brainchild of Michael Jareou and he wants to share his secrets of success and desire of a healthier future.
Our mission at NuVerus is to help you achieve optimal health and wellness. Through NuVerus' groundbreaking products, we promote wellness throughout the world.
NuVerus isn't just helping people live healthier lives; it's also helping them build financial freedom. The Prosperity Plan is a unique platform with proven success that will enable people to have multiple streams of income.