Organo Gold Announces $4M and $5M Ring Earners
October 14, 2013
By Tina Williams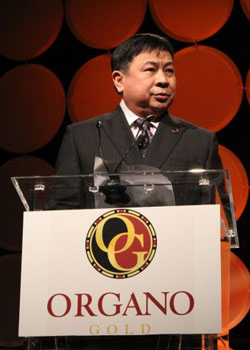 Organo Gold announces their newest $4M ring earners, John and Blanca Sachtouras, as well as their first $5M ring earner, Jose Ardon at their annual convention this weekend, which hosted approximately 6,000 attendees.
This 28 year old ex-contractor in the air conditioning business from Katy – Texas, USA has build in less then 3 year a $60 million annual coffee business.
He already had been involved in network marketing for five years, but was not hitting the ranks that time.
I was looking for a mentor, Jose said. When I met Holton Buggs, I knew he was the leader I wanted to work with. That was the number one reason I joined. I wanted to work with a person like Holton Buggs.
Jose Ardon estimated earnings are $450,000+ per month.
John Sachtouras only took 90 days to reach Diamond Consultants, one of the top positions within the compensation plan, Blue Diamonds in 6 months, Black Diamonds in 15 Months and Crown Diamonds in 2011. Their estimated earnings are as of March 2012 $400,000+ per month and build a gigantic distributorship in just 2,5 short years.