Xocai Launches "Nano Cacao" Shampoo And Conditioner
October 27, 2013
By Team Business For Home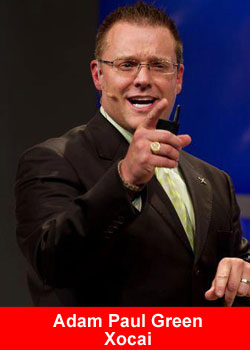 Xocai, is home of top earners as Adam Paul Green, and Derrick Winkel among many others.
When people look at your hair, do they see a youthful, vibrant, and energetic you, or a dull, drab and lifeless you.
The truth is our hair either portrays an image of youth and energy or one of age and fatigue.
Unfortunately, in today's modern world, it's extremely difficult to maintain lustrous, vibrant and healthy hair.
Our diets are poor, we're continually exposed to toxins and pollutants, our schedules are high-stress, we don't exercise enough and we don't get sufficient sleep. Not only do we feel haggard and fatigued, our appearance(including our hair)often shows it as well.
Adam Paul Green, Xocai Ambassador says: "As seasoned and experienced mlm product manufacturers for over a decade, Jeremy Reynolds (Bountiful, Utah) and I have dreamt about the day when our four Xocai product categories were more complete (Healthy Chocolate, Weight Loss, Energy and Cosmeticeuticals).
We now have both cutting edge skin care (Xophoria) and health promoting hair care. Today, this goal is fulfilled for our teams with MXI Corp's decision to create a Nano Cacao hair care that does not contain harmful Sulphates and questionable Parabens."
Xophoria™ Hair Care Provides Unique Hair Solutions
Instead of helping, most hair care products only make the problem worse. They're comprised largely of harsh, synthetic chemicals that damage the hair, strip its protective barrier, dull its luster and leave it looking thinned, lifeless and old.
Unfortunately, these type of products are the norm and it's difficult to find one that can deliver true, natural healing for healthy and youthful looking hair and skin. Until now. Xophoria™ Cacao-Based Antioxidant Hair Care Shampoo and Conditioner provide the only cacao-based hair care for naturally healthy, luxuriant and youthful hair.
With Xophoria, now you can have the beautiful and healthy hair you've been waiting for since forever. More details are found here: https://www.mxicorp.com/products/haircare/
Benefits of Xophoria™ Hair Care
The leading cacao-based hair care products in today's marketplace • Works at nano (molecular) level within cells for optimal nourishing, anti-aging and protective effects • Unique profile of healing and nourishing ingredients • Moisturizes, nourishes and revitalizes hair and scalp.
Retains hair's natural protective barrier • Penetrates hair shaft and follicle for optimal moisture, volume and flexibility • Minimizes brittleness, damage, and dull appearance • Gently removes residue and buildup for optimized luster and body • Strengthens and fortifies hair for healthy flexibility and volume • Slows hair thinning; adds weightless volume • Encourages light volume, luster and shine • Minimizes broken, fraying hair ends • Stimulates endorphins in skin for feel-good effect • Mild cleansers without the harsh effects of other common products.
NO Synthetic Fragrance, NO Sulfates, NO Parabens
About MXI Corp:
All MXI products are focused on potent doses of delicious, antioxidant-rich Belgian cacao. MXI-Corp believes that the high levels of natural antioxidants and Polyphenols that are found in its cacao can provide a viable solution to individual nutritional needs.
The Xoçai™ (sho-sigh) line, which currently includes nine products, is manufactured utilizing a cold-press process, which preserves the nutritional values of the company's proprietary blends of vitamins and minerals. Established in 2005, Marketing Xocolate International Corporation (MXI-Corp) is the world leader in great tasting, healthy, dark, chocolate products.
MXI Corp was founded upon the same solid foundation that the Brooks' family used to build their enormous Pure Delite Low Carb Chocolate company (circa 2000) which had retail sales in Wal-Mart, 7-Eleven, Rite-Aid and Walgreen's of over $300,000,000.