Randy Schroeder Named "Networker of the Year" At Obtainer Global Direct Selling Forum
November 20, 2013
By Tina Williams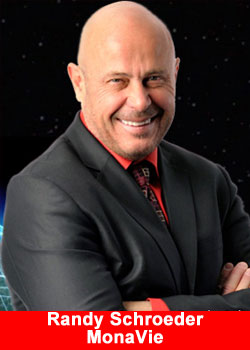 MonaVie distributor Randy Schroeder was honored with the "Networker of the Year" award at the Obtainer Global Direct Selling Forum (OGDSF) event held in Ras Al Khaimah, UAE, November 9–10, 2013.
The Obtainer Worldwide Direct Selling Award for Networker of the Year is awarded to successful individuals who have excelled in the direct selling industry. This award recognizes the exemplary work, commitment and dedication of a networker.
"I was surprised that it was an emotional experience for me," said Schroeder, Royal Black Diamond distributor with MonaVie. "I did not expect the award, and felt that so much of what I think and do was validated here."
[private_platinum]
Approximately 150 home-based business professionals, MLM company executives and CEOs watched with excitement as the hotly contended awards were presented. In all, nine trophies were awarded by an international independent jury representing the pinnacle of excellence and achievement in one major area of the MLM industry. Each recipient accepted their award to the appreciative applause of their peers in the audience. "It was very impactful for me to receive this award from an independent panel of judges. There's a different level of veracity associated with recognition like that. It is an honor, and humbling," said Schroeder, who received six out of the seven judges' votes.
The OGDSF may well be the most diverse and comprehensive conference in the industry. The growing popularity and awareness of network marketing throughout the Middle East, Africa and Southeast Asia (MEASA) region was evident throughout this knowledge-sharing event as high-caliber industry experts and professionals showcased some of the pressing issues in the industry and some of the latest trends in personal and product development.
About MonaVie
Since 2005, MonaVie has developed premium products dedicated to promoting health and wellness worldwide. With distribution in more than 20 markets, MonaVie addresses four key areas necessary for optimal health—Nutrition, Weight, Energy, and Stress—with products made from the best and rarest ingredients on Earth. The products, in conjunction with MonaVie VIEW Antioxidant Scanner, empower people to live healthier, more meaningful lives. That greater meaning is revealed through our heartfelt commitment to doing good in the world and by helping children and families in need through the MORE Project.
[/private_platinum]