Talk Fusion Announces Upcoming Product Enhancements
November 6, 2013
By Team Business For Home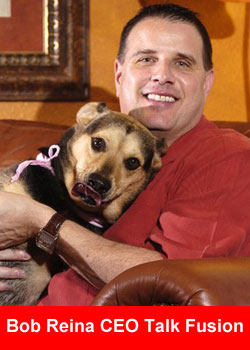 Tampa Bay-based video communication and relationship marketing company Talk Fusion has announced additional product upgrades to be released along with its forthcoming new Talk Fusion CONNECT product.
The global brand's premier 3-in-1 Live Broadcasting, Video Conferencing and Desktop Share product Talk Fusion CONNECT will be going into beta testing very soon, and released shortly thereafter.
Talk Fusion, home of Top Earners, Minh and Julie Ho, Vjacheslav Ushenin, Svetlana Shodunke, Rob Roder, and Artur Kachanov among many others.
When it does come to the marketplace, it will be bringing with it several additional enhancements and improvements to existing Talk Fusion products.
In particular, the Video Communication Center, Talk Fusion's user interface where Customers and independent Associates log in to access their products—which currently include The World's First Video Newsletters; Video Email; E-Subscription Forms; Video Auto Responders; Fusion On the Go mobile apps; Video Blog; Video Share; and video social network the Fusion Wall—is undergoing a substantial upgrade.
New features will include a beautiful new look and landscape orientation, improved Quick Launch to open products and other elements with one click, reorganized video libraries that make browsing and finding stored videos easier than ever, and more.
"We are always working not only to bring new products to our customers, but also to improving existing products and user experience," says Talk Fusion Founder & CEO Bob Reina.

"CONNECT is such an amazing new product, we felt a responsibility to raise our standards even higher across the board."
Other enhancements include an all-new Contact Manager, and advanced reporting features that give users an overview of both individual emails and their entire Talk Fusion account activity at a glance. All of these beneficial new features will accompany the upcoming release of Talk Fusion CONNECT.
ABOUT TALK FUSION
Talk Fusion is a rapidly growing global company dedicated to changing lives through providing cutting-edge personal and business Video Communication Products and a lucrative business opportunity. Talk Fusion's innovative products are marketed person-to-person by Independent Associates in more than 140 countries.
The company was founded in 2007 by CEO Bob Reina and introduced the world's first Instant Pay Compensation Plan. Talk Fusion adheres to the highest ethical business practices and is an accredited member of the BBB and the prestigious Direct Selling Association (DSA).
Reina firmly believes that "with great success comes greater responsibility." To that end, his commitment to giving back has benefited numerous charitable organizations. Learn more about us at www.TalkFusion.com, www.talkfusiongivesback.com and www.talkfusioninthenews.com and "Like" Talk Fusion at www.facebook.com/TalkFusion.