Herbalife Announces Appointment Of Maria Otero
December 10, 2013
By Tina Williams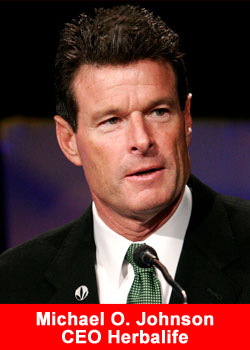 Global nutrition company, Herbalife, today announced the appointment of Maria Otero to the Company's Board of Directors, effective December 7, 2013. Otero has spent an illustrious career focused on tackling poverty and empowering those less fortunate around the world, and her leadership, experience and insight will be a valuable addition to the Herbalife Board.
"For more than 30 years, I have focused on helping individuals empower themselves through work, so they can take control of their own lives. I have seen first-hand the power of giving those individuals and entire communities the chance to realize their potential," said Otero. "Having spent a lot of time getting to know Herbalife, I am convinced this is a company that shares my belief in the positive impact that economic empowerment can bring to society."Otero joins as an independent Director. With her appointment, Herbalife has increased the size of its Board to 13 members, 10 of whom are independent.
"Throughout a career focused on helping others, Maria has shown what can be achieved if people are just given the opportunity. She is a recognized leader in the field of micro-enterprise, and we are delighted to welcome her to Herbalife's Board of Directors," said Michael O. Johnson, chairman and chief executive officer of Herbalife. "Maria will be a tremendous addition to our Board, and we look forward to leveraging her unparalleled knowledge and insight towards a shared goal of providing an equal and accessible opportunity to everyone who needs it."
About Maria Otero
Otero currently serves on the Council on Foreign Relations and serves on the boards of Kresge Foundation, Public Welfare Foundation and Development Alternatives Inc.. She has chaired the board of Bread for the World, and also served on the boards of the Calvert Foundation, U.S. Institute for Peace, the Inter-American Foundation and BRAC in Bangladesh.
Born in La Paz, Bolivia, as one of nine children, Otero came with her family to the U.S. when she was 12 years old. Although her initial studies in English literature were chosen with a career in academia in mind, it was her brother who convinced her that her future lay in helping others. She decided that if she was going to tackle poverty around the world she would study economics, and she also returned to Bolivia to improve her knowledge of the Latin American reality. She returned to the United States to complete graduate work at the Johns Hopkins School of Advanced International Studies, where she earned her Masters.
In her early career, Otero became a program officer at the Inter-American Foundation and worked for five years at the Center for Population and Development Activities. Otero also worked as an economist for Latin America and the Caribbean in the Women in Development Office of USAID.
In 1986, Otero joined Accion, one of the first micro lending organizations in the world, as country director in Honduras. She returned to the United States in 1989 to start and direct the Washington, D.C., office. In that position, she worked with the U.S. government and nonprofits to develop policies that helped families in the developing world earn money through small businesses. A typical microfinance program extends a small amount of credit, usually with no collateral, to people or organizations that would not normally qualify for loans. Otero was named Accion's vice president in 1994, and president and CEO of Accion International six years later. The nonprofit organization operates in 26 countries and is recognized as a global leader in microfinance and economic development.
In 2000, President Clinton appointed Otero to the board of the United States Institute of Peace, where she served for eight years. In 2006 she was appointed by Secretary General Kofi Annan to the U.N. Advisors Group on Inclusive Financial Sectors. In June 2009, Otero was nominated to serve as under secretary for Democracy and Global Affairs, which made her the highest ranking Hispanic official at the State Department, and the first Latina under secretary in its history. In this position, Otero was charged with helping shape the State Department's positions on human rights, climate change, global health, refugees, trafficking in persons and women's issues. She oversaw the Bureau of Democracy, Human Rights and Labor; the Bureau of Oceans, Environment, and Scientific Affairs; the Bureau of Population, Refugees and Migration; the Office to Monitor and Combat Trafficking in Persons; and the Office of the Science and Technology Advisor to the Secretary.
On January 17, 2012, Secretary Clinton named Maria Otero as under secretary for Civilian Security, Democracy, and Human Rights, a newly created office and position at the State Department. During her time at the Department of State, Under Secretary Otero also served as the President's Special Coordinator for Tibetan Issues.
Otero's awards and recognition include selection by Newsweek in October 2005 as one of the United States' 20 most influential women; Hispanic Business Magazine's 'Elite Women of 2007'; Notre Dame University's Distinguished Service in Latin America Award; National Council of la Raza Graciela Olivarez Award; and the Ellis Island Medal of Honor.
Otero holds an M.A. in literature from the University of Maryland; an M.A. in international relations from the Paul H. Nitze School of Advanced International Studies (SAIS), at the Johns Hopkins University; and an honorary Doctorate of Humane Letters from Dartmouth College.
About Herbalife Ltd.
Herbalife Ltd. (NYSE:HLF) is a global nutrition company that sells weight-management, nutrition and personal care products intended to support a healthy lifestyle. Herbalife products are sold in more than 90 countries to and through a network of independent distributors. The company supports the Herbalife Family Foundation and its Casa Herbalife program to help bring good nutrition to children.